This was the night of a triple threat of musical perfection that entertained the jubilant crowd at Toronto's historic Opera House, on the evening of September 26th.
I had arrived early at the venue in anticipation of covering a concert for the first time in the photographer's pit.
First on stage was the multi-talented Dutch artist, ANNEKE VAN GIERSBERGEN prepared to entertain the crowd, with a special solo acoustic set.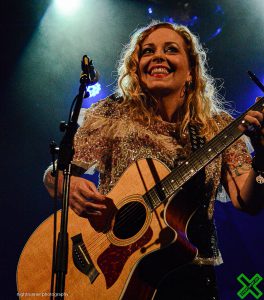 ANNEKE is known for her solo work, along with previous involvement with, THE GATHERING, THE GENTLE STORM, AYREON, and her current band VUUR. ANNEKE has also collaborated with such names as, DEVON TOWNSEND and Liv Kristin.
ANNEKE, walked onto the Opera House stage, with just her guitar, to thunderous applause. Sheopened her set with "Ih-Ah!",a DEVON TOWNSEND PROJECTcover. Over the course of her 9 song set, ANNEKEperformed many cover songs including; "Cloudbusting" by KATE BUSH, "Wish You Were Here" by PINK FLOYD. ANNEKE alsohad the crowd singing along with her during her rendition of the classic DOLLY PARTON song "Jolene".ANNEKEended her exceptional set with a stunning rendition of IRON MAIDEN's"Wasted Years", as a tribute to SOUNDGARDEN's late frontman Chris Cornell.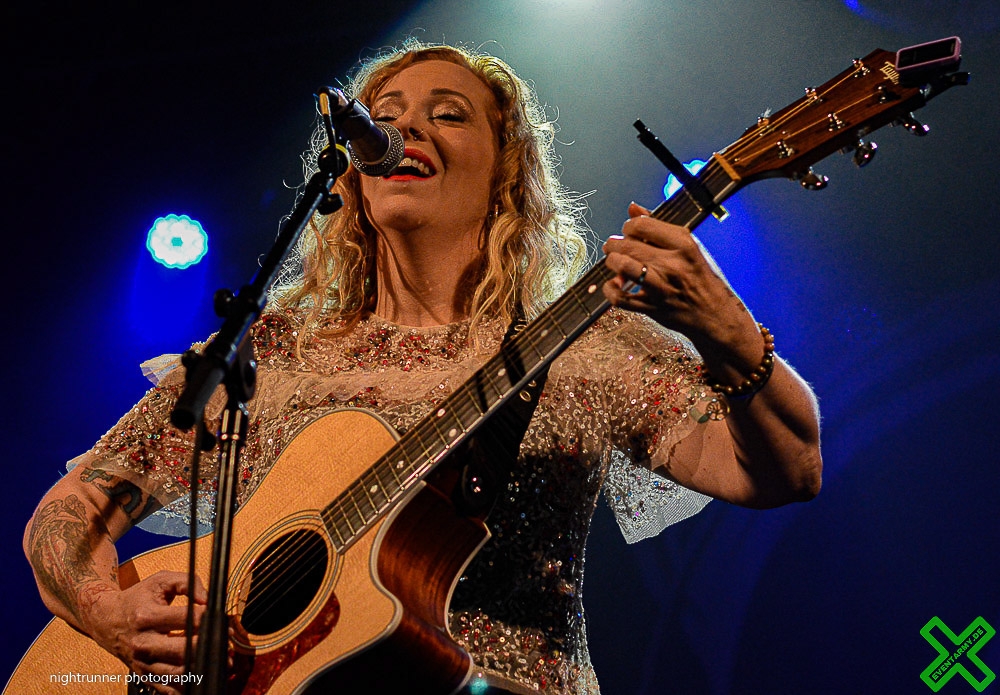 With that, ANNEKE'sset was over. She left the stage with exuberant applause from the satisfied Opera House crowd.
This was the first time I have seen ANNEKE VAN GIERSBERGEN live, and I was not disappointed, and neither was the crowd. My mouth was agape during several of her songs, with her angelic, emotional and stunning vocal talent.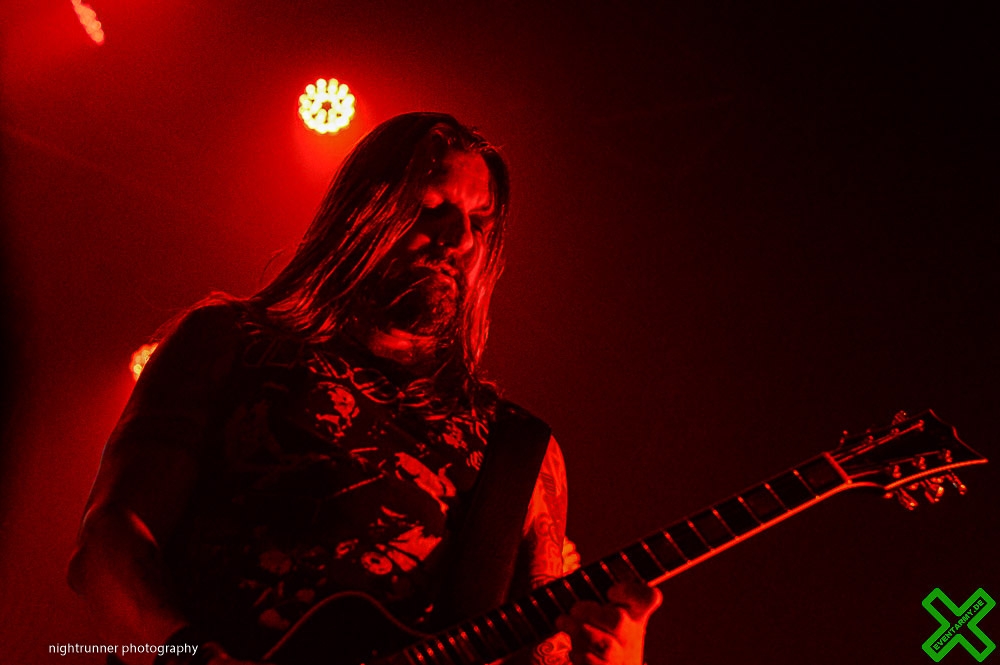 After a brief intermission, the long time Finnish metal group AMORPHIS was set to destroy the stage with there mix of different metal genres. The members of AMORPHIS included founding members, Esa Holopian on lead guitar, and Tomi Koivusarri, on rhythm guitar. Rounding out AMORPHIS is Santori Kallio on keyboards. Jan Rechberger on drums. Tomi Joutson, on lead vocals, and Olli Pekka Laine, on bass. AMORPHIS open up their 12-song set with "The Bee", a thunderous song from their current 13th studio album "Queen of Time", released in 2018.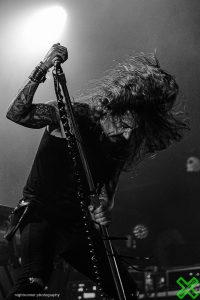 Later on, in their set, AMORPHIS delved into their vast musical catalogue and played such classics as "Black Winter Day" and "Sampo. Near the end of AMORPHIS'S set, ANNEKE VAN GIERSBERGEN joined them on stage to perform "Amongst Starscatalog" which ANNEKE also performed on the studio version on the album "Queen of Time". AMORPHIS had the Toronto crowd moving during their entire set. Their blending of the various metal genres they have coveted throughout their career was seamless. From progressive metal to melodic death metal, and lead vocalist Tomi Joutson's soaring clean vocals, to his guttural death growls, was a perfect combination for an exceptional set.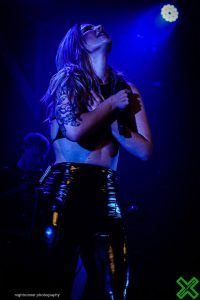 After a brief interlude, the Dutch Symphonic Metal Band, DELAIN was up last. I have to confess, DELAIN is one of my favorite bands. This would be my 8th time seeing them live. Their infectious energy, and from interactions with the band members in the past, they are all genuine, kind & caring individuals.
The members of DELAIN consist of Charlotte Wessels, lead vocals. Martijn Westerholt, on keyboards. Timo Somers, on guitar. Otto Schimmelpenninck van der Oije, on bass. DELAIN'S drummer Joey de Boey was unable to make it for the first leg of the tour, so AMORPHIS drummer, Jan Rechberger, filled in on drums, contributing an exceptional performance to DELAIN'S set.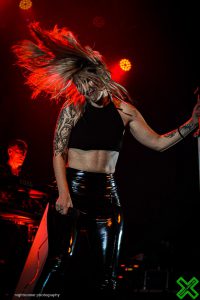 DELAIN opened up their set with their brand new single "Burning Bridges", which will be on their forthcoming 6th studio album, which will be released on February 2020. Lead singer, Charlotte's exuberant energy, along with her soaring & passionate vocals, quickly had the crowd going into a state of frenzy. DELAIN played a total of 12 songs during their set. They combined new and old songs from their previous 5 studio albums, and forthcoming album. DELAIN performed spectacular renditions of fan favorites such as "Stardust", "April Rain", "We Are the Others", and one of my personal favorites "Pristine", from their 2006 debut album "Lucidity". Before you knew it DELAIN'S set was almost over. They wrapped up the show, and had the crowd rocking one more time with "The Gathering". DELAIN'S exceptional energy, and on-stage chemistry, combined with the energy from the crowd, always leads to a great experience.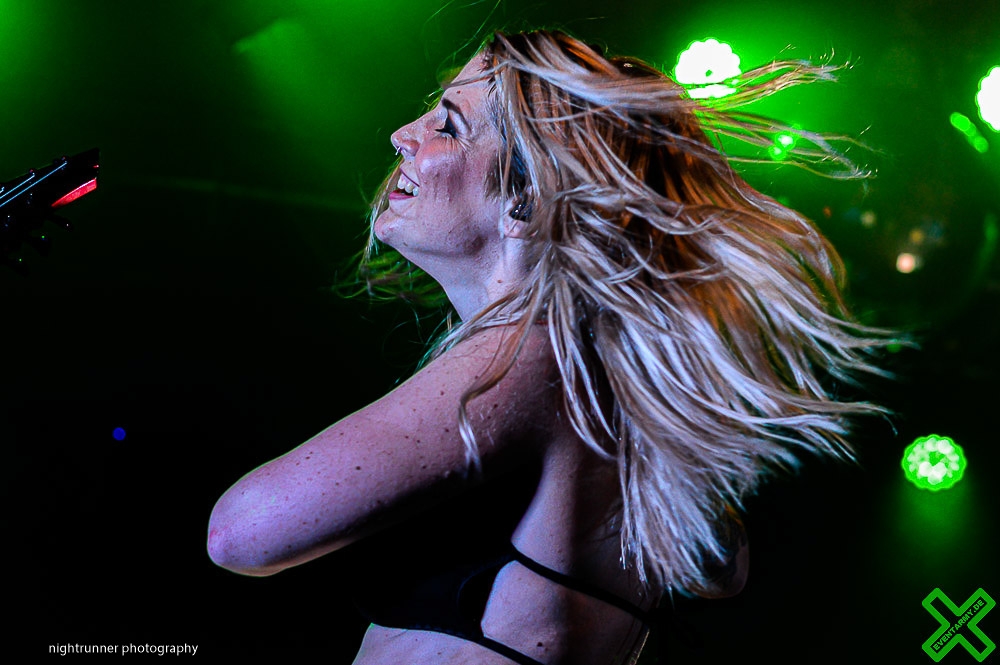 Full Gallery ANNEKE on Facebook.
Full Gallery AMORPHIS on Facebook.
Full Gallery DELAIN on Facebook.
(Copyright by Aaron Stinson)