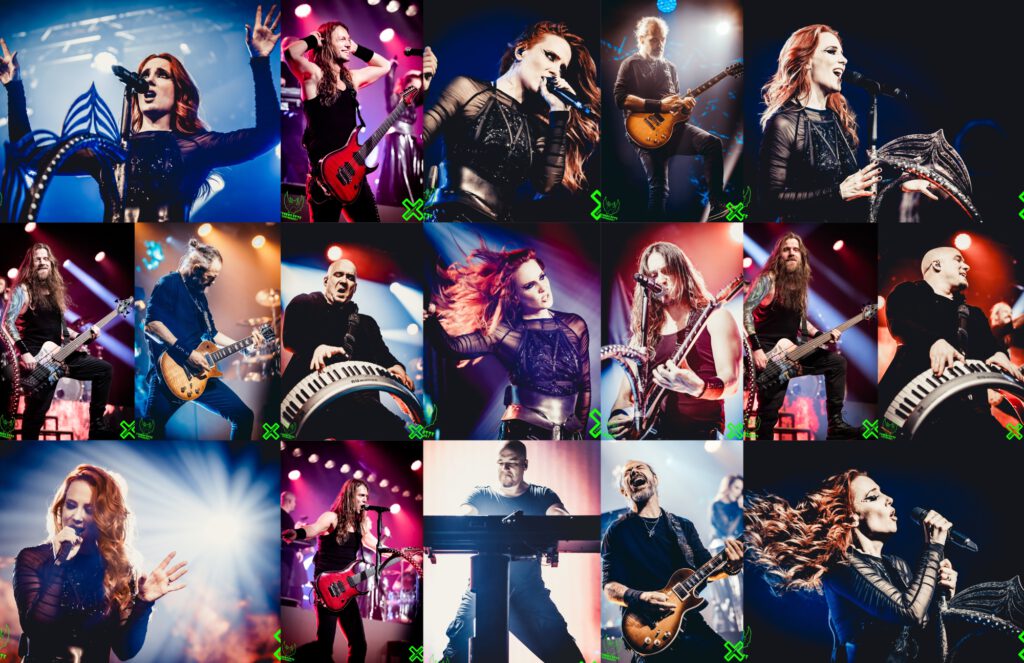 English below
Lange mussten die Fans auf diese Tour Warten. Eigentlich für 2020 angekündigt, musste auch dieses Ereignis wegen der Coronapandemie mehrfach verschoben werden. Nun zwei Jahre später war es aber endlich soweit und die Fans kamen reichlich zum Carlswerk Victoria nach Köln. Nahezu ausverkauft war diese Veranstaltung. Alles andere wäre auch verwunderlich, denn zwei so großartige Bands sollte sich niemand entgehen lassen.
Eigentlich sollte die finnische Band WHEEL als Vorband auftreten. Leider war der Sänger erkrankt und so gab es an diesem Abend keine Vorband.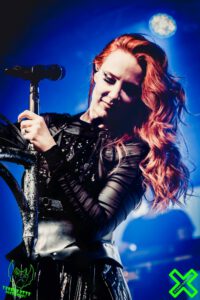 Gegen 20 Uhr kamen EPICA auf die Bühne. Der Jubel war riesig. Der Bühnenaufbau war ziemlich beeindruckend. Es gab zwei Ebenen mit riesigen LED-Wänden, die passend zu den Liedern Bilder angezeigt haben. Optisch haben sich EPICA hier nicht lumpen lassen. Aber auch die Songauswahl kam gut an. Jedes Lied wurde mitgesungen und die kleinen Ansagen von Simone, die teilweise auf Deutsch waren, haben dem Set das gewisse Etwas verliehen. Auch wenn die schnellen Nummern die Menge zum Toben brachten, so schien es trotzdem, dass alle nur auf die langsameren Lieder gewartet haben, damit sie Simones einzigartige Stimme so richtig genießen konnten. Gespielt wurden 12 Lieder. Davon vier vom Album "Omega" und der Rest eher buntgemischt. Da es eine Co-Headliner-Tour war, wurde natürlich kein volles Set gespielt, wie man es sonst gewohnt ist. Beide Bands hatten ungefähr die gleiche Spieldauer. Dadurch, dass es an diesem Abend allerdings keine Vorband gab, hätte man sich vielleicht gewünscht, dass beide Bands etwas länger gespielt hätten. Nichtsdestotrotz war es ein gelungener Start in einen tollen Abend. Simone sollte zu einem späteren Zeitpunkt nochmal auf der Bühne zu sehen sein, um mit APOCALYPTICA ein Lied zusammen zu spielen.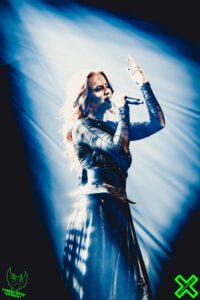 Gegen 22 Uhr kam es dann zu ganz anderer Musik. APOCALYPTICA durften auf die Bühne und was aufgefallen ist, die Stimmung war eine ganz andere. Es wurde eher ruhig zugehört als wild mitgemacht und das obwohl die Finnen von Anfang an ziemlich Tempo auf der Bühne gemacht hatten. Die Cellisten haben oft die Seiten gewechselt und überwiegend im Stehen gespielt. Bei anderen Shows sah man sie häufig sitzend, aber das war an diesem Abend eben anders und deshalb sofort auffallend. Es gab zwar auch Songs, die sie im Sitzen gespielt haben, aber ein Großteil wurde eben im Stehen mit jeder Menge Bewegung auf der Bühne gespielt. Wer APOCALYPTICA kennt, der weiß auch, dass die Finnen sehr humorvoll sind und auch ihre Späße auf der Bühne machen. Das tat der etwas strengeren Stimmung in der Halle an diesem Abend sehr gut. Eigentlich sollte für einige Lieder der Sänger der Vorband WHEEL auf die Bühne kommen. Da WHEEL aber aus gesundheitlichen Gründen des Sängers nicht spielen konnten, gab es an diesem Abend keinen Sänger für die Gesangsparts der Stücke. Eicca nahm es mit Humor und erklärte, dass sie dann halt die Stücke wie zu Beginn ihrer Karriere spielen: Nur Cello, ohne Gesang. Das tat dem Konzert oder den Liedern aber keinen Abbruch. Für das Lied "Rise Again" kam die bezaubernde Simone Simons von EPICA nochmals auf die Bühne. Dieses Mal aber im funkelnden Abendkleid. Der Song mit ihr zusammen war sicherlich für viele ein Highlight des Tages. Das Lied war wunderschön anzusehen und anzuhören.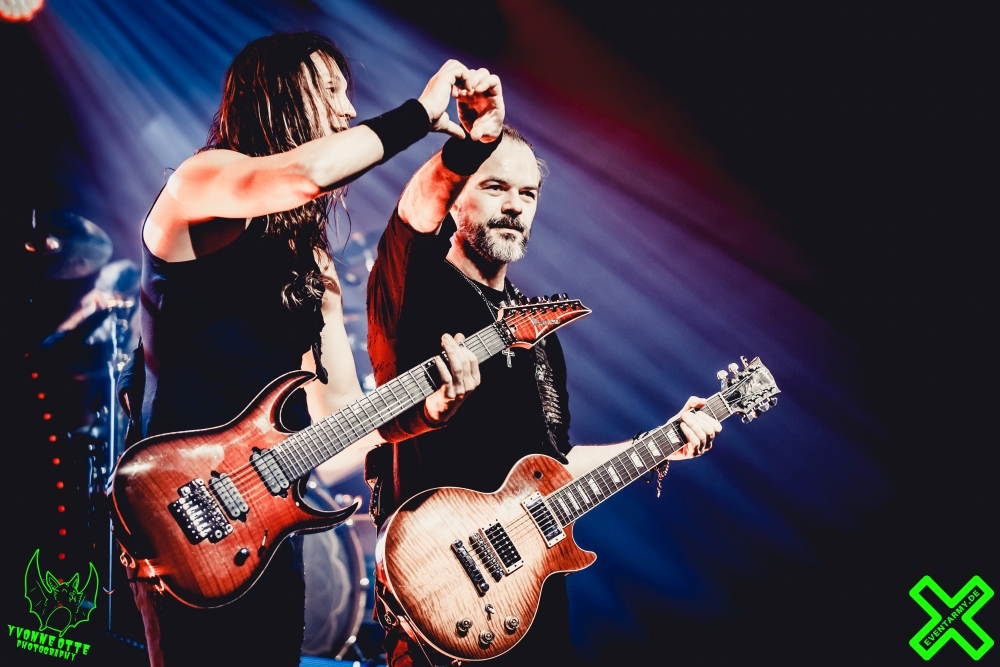 Natürlich durften METALLICA in der Setlist der Finnen nicht fehlen. Immerhin haben APOCALYPTICA so ihre Karriere begonnen. Zwei Lieder von METALLICA wurden gespielt. Natürlich "Nothing Else Matters", wo die Zuschauer teilweise auch den Text gesungen haben, und "Seek & Destroy". Bei beiden Liedern war die Stimmung vielleicht noch ein bisschen besser als bei allen anderen Liedern des Abends.
Da es eine Co-Headliner-Tour war, war auch hier nur ein verkürztes Set gespielt worden. APOCALYPTICA spielten 13 Lieder. Damit ein Lied mehr als EPICA.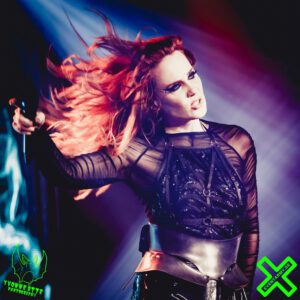 Insgesamt ein wirklich gelungener Abend. Zwei tolle Bands zusammen auf Tour, für quasi den Preis von einer. Was will man mehr? Das lange Warten hat sich gelohnt und die Fans sind auf ihre Kosten gekommen. Schade, dass WHEEL nicht auftreten konnten. Aber die Gesundheit geht natürlich vor. Einzige Kritik vielleicht, dass stattdessen beide Bands etwas länger hätten spielen können. Aber wahrscheinlich geht das nicht mehr so einfach, wenn für jedes Lied eine tolle visuelle Gestaltung auf den LED-Wänden vorbereitet wurde. Dennoch ein schöner Abend, der leider viel zu schnell vorbei ging, aber noch lange in Erinnerung bleiben wird.
Alle Bilder gibt es natürlich auf Flickr.
Text und Fotos von Yvonne Otte.
_________________________________________________________________________________________________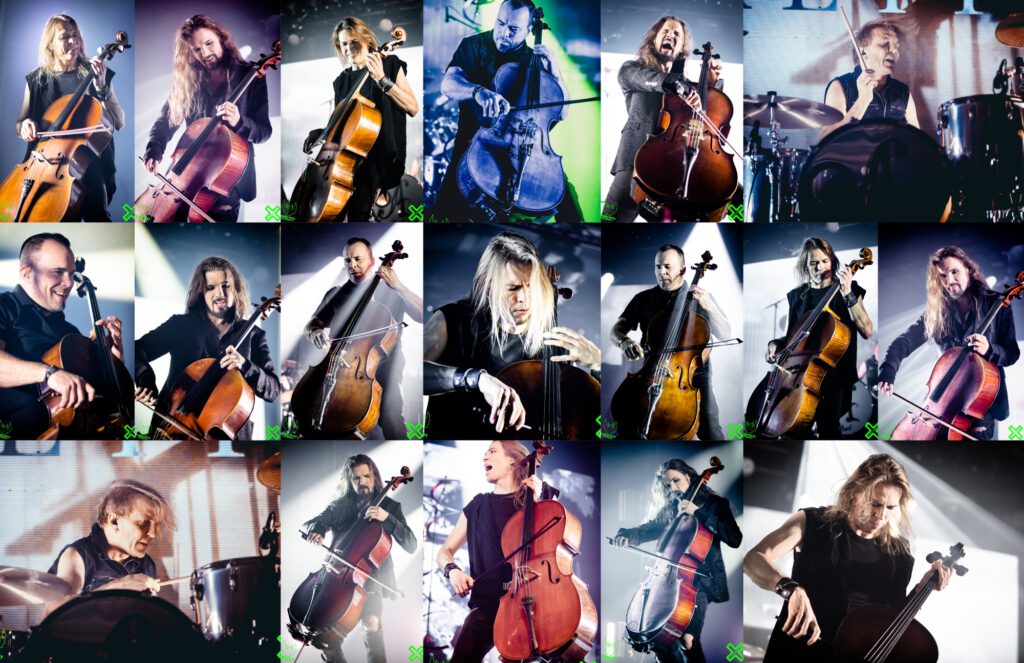 Fans waited a long time for this tour. While originally announced for 2020, this tour needed to be postponed several times due to the COVID-19 pandemic crisis. Two years later, it was finally time. Fans came in droves to the Carlswerk Victoria in Cologne. This event was almost sold out. Anything else would have been surprising because nobody should miss out on a chance to see these talented bands.
The Finnish band WHEEL was supposed to be the opening act, but unfortunately, the singer was sick and so there was no opening band that night.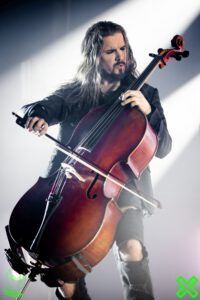 Around 8 pm EPICA entered the stage. The crowd cheered so loudly. The stage setup was quite impressive; There were two levels with huge LED walls that showed pictures to the songs. Visually EPICA didn't disappoint and the song selection was well received.
Every song was sung along to and the little announcements by Simone, partly in German, gave their set that certain something. Even though the fast numbers made the crowd go wild, it seemed like everyone was just waiting for the slower songs to really enjoy Simone's unique voice. Twelve songs were played, four of them were from their latest album, "Omega" released in 2021, and the rest were a mix of songs from their discography. Since it was a co-headlining tour, they didn't play a full length set like you might be used to. Both bands were given relatively the same playing time. In spite of not having an opening band that night, you probably would have wished that both bands would have played a little longer. Despite this, it was a good start to an enchanting evening. Simone would return to the stage to reprise her vocals in a song with APOCALYPTICA.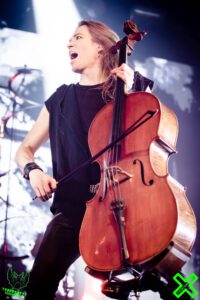 Around 10 pm the tone of the venue had been altered completely. APOCALYPTICA was now entering the stage. The atmospheric change was very apparent. People listened more attentively even though the Finnish quartet played quite fast from the beginning. The three cellists often changed sides and played mostly standing up. At other shows they were often seen sitting, but on this night it was just different and it was immediately noticeable. There were some songs played sitting down, but most were played standing with a lot of movement on stage. Fans of APOCALYPTICA know that these Finns are pretty comical and make jokes on stage. This was great to keep the show more lively, despite the show's serious tone. The singer of the opening band WHEEL was supposed to come on stage for some songs. Since WHEEL could not perform due to their vocalist falling ill, there was no singer for the vocal parts of the songs that night. Eicca took it optimistically with humor and told the audience they "would just play the songs like at the beginning of their career: Just cello, no vocals." But it did not hurt the concert or the songs. For the song "Rise Again," the enchanting Simone Simons of EPICA returned to the stage, this time in a glittering evening gown. This was certainly a highlight of the evening for many. The song was beautiful to look at and listen to.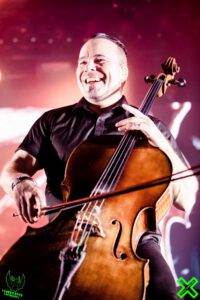 Of course, APOCALYPTICA'S METALLICA covers could not be missing in the setlist. After all, this is where it all started for APOCALYPTICA. Two METALLICA tunes were played. Of course during "Nothing Else Matters", and "Seek & Destroy" the audience gleefully sang along to these classics. APOCALYPTICA recently received some new recognition for their METALLICA covers following their feature in the Netflix series "Wednesday." Both songs improved the atmosphere of the show that evening.
Since this was a co-headlined tour, they unfortunately played a shorter set. APOCALYPTICA played thirteen songs. One song more than EPICA. In co-headlined tours, the time is usually split, with the first to perform, permitted slightly less time.
By the end of the night, it was a successful evening. Two great bands together on tour for the price of one? Fans could not ask for more! The long awaited evening worth it and the fans definitely got their money's worth. It is a shame WHEEL could not play, but health comes first, of course. The only criticism might be that both bands could have played a bit longer. But that is not so easy when you already have a beautiful visual presentation on the LED walls for every song. It was a wonderful evening that passed by far too fast. It will certainly be remembered for a long time.
All pictures are available on Flickr.
Text and photos by Yvonne Otte.