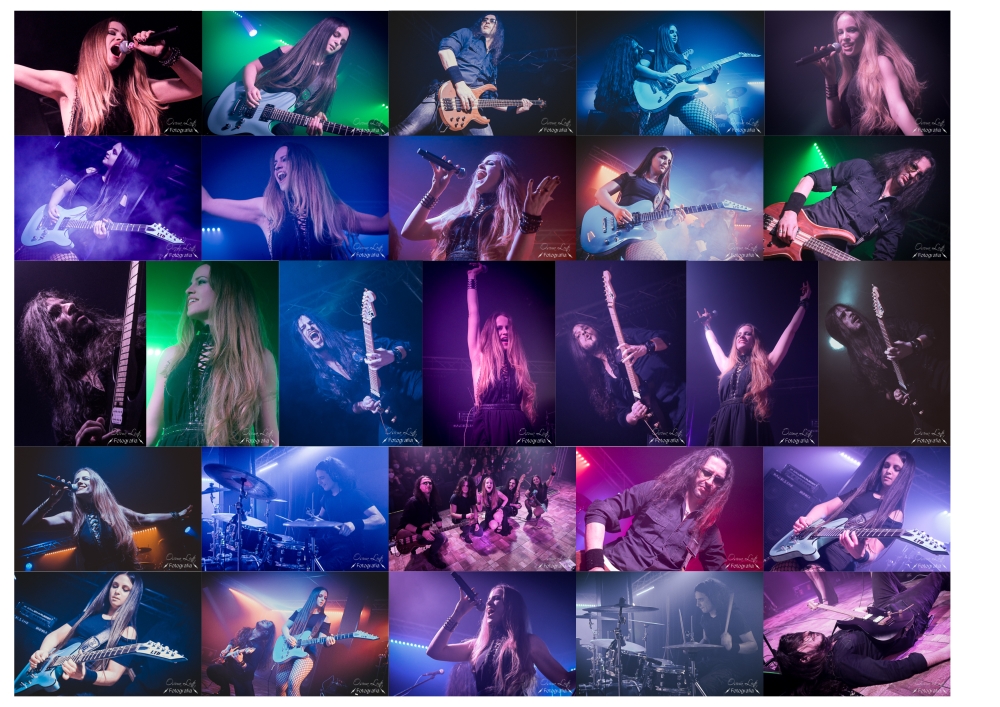 English below
Endlich fand im Legend Club, Mailand wieder ein "normales" Konzert statt. Scarlet Records präsentierte drei erstklassige Bands aus ihrem "Stall". FROZEN CROWN die erstmals Ihre neueste Platte "Winterbane" live zum Besten gaben, begleitet vom modern Metal von REASONS BEHIND und der Symphonic-Gothic Band NOCTURNA welche ihr Debütalbum "Daughters of the Night" erst vor kurzem veröffentlicht hatten.
Die Veranstaltung lockte viele Besucher an, eine lange Schlange bildete sich schon vor Beginn der Veranstaltung.
NOCTURNA
Der Abend beginnt mit etwas Verspätung.
NOCTURNA haben die Ehre das Konzert zu eröffnen und dem Publikum einzuheizen. Die Saallichter gehen aus, die Bühne ist in dunkles Licht getaucht. Nebelschwaden umhüllen die Musiker mit dunklen Masken als diese die Bühne betreten. Die ersten Töne von "New Evil" erklingen und Frontfrau Rehn Stillnight betritt die Bühne, gefolgt von Frontfrau Grace Darkling. Das Publikum ist sofort begeistert und jubelt Ihnen zu.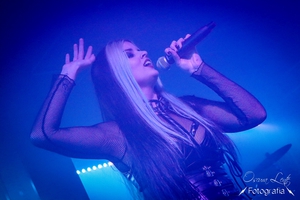 Kein Wunder NOCTURNA wissen mit ihrem symphonischen Metal, halsbrecherischen, starken Gitarrenriffs, hämmernden Schlagzeugparts und Basslinien wie man das Publikum begeistert. Sie ziehen die Menge von Anfang an in Ihren Bann.
Es ist nicht einfach, während einer Pandemie eine Band zu gründen. Aber NOCTURNA hat uns gezeigt, dass es möglich ist. Die Pandemie ist noch nicht vorbei, da erschien vor einigen Wochen bereits das erste Album.
"Daughters of The Night" konzentriert sich auf die Dualität der Frontfrauen Grace Darkling und Rehn Stillnight. Ihre kraftvollen Stimmen und charismatischen Persönlichkeiten stechen auch am heutigen Abend besonders hervor – jede mit einem ganz eigenen Ton.
NOCTURNAS Videos haben bereits eine Million Aufrufe auf Youtube erreicht!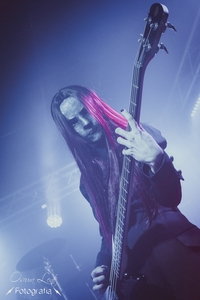 Als die Songs angekündigt werden, jubelt das Publikum und singt lauthals mit. Die Band zeigt sich sichtlich gerührt über so viel positives Feedback, schließlich handelt es sich am heutigen Abend um Ihren allerersten Live-Auftritt.
Die kraftvolle Gesangsleistung der beiden Frontfrauen ist außergewöhnlich. Ihre Stimmen fügen sich perfekt zusammen. Immer wieder schaffen sie die perfekte Verbundenheit zwischen Ihnen und Ihren Bandgefährten.
Mit "Daughters of The Night" dem Titeltrack des Debütalbums endet, ein erstklassiger Auftritt. NOCTURNA wird unter tosendem Applaus verabschiedet und verlässt die Bühne sichtlich glücklich.
REASONS BEHIND
Nach diesem großartigen Start geht es weiter mit REASONS BEHIND. Ihr neues Album heißt "Projekt M.I.S.T.". Ein Blick auf die Set List verrät wir werden heute Abend "nur" Songs des aktuellen Albums zu hören bekommen.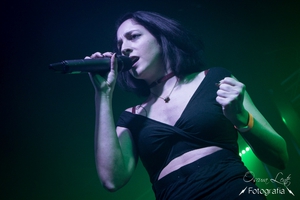 Nach dem Intro geht es mit "Fireflies In The Wind", los. Eine kraftvolle Nummer. Frontfrau Ely leistet bereits hier eine Höchstleistung, sie ist es auch, die dem Song die nötige Härte verleiht.
Seit 2010 musizieren REASONS BEHIND bereits zusammen. Über die Jahre entwickelte sich die Band von einer reinen Symphonic Metal- zu einer Modern-Metal-Band, in dem REASONS BEHIND verschiedene Soundspielereien, in ihre Kompositionen einbauen.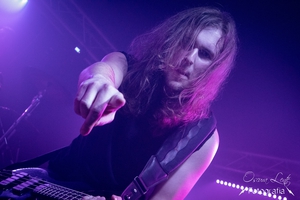 Mit einer gesunden Portion Speed geht "Living A Lie" an den Start. Hypnotische Klänge empfangen das Publikum und entfesseln nach und nach ein Feuerwerk, das immer mal wieder abgebremst wird, um erneut gezündet zu werden.
Knallharte Riffs und ein undurchsichtiges Soundgewand sind die Merkmale von "Binary Stars" dem letzten Song ihres heutigen Auftritts.
Das Publikum hatte sichtlich Spaß und verabschiedet die vier Musiker mit einem herzlichen Applaus.
FROZEN CROWN
Nach zwei tollen Auftritten von NOCTURNA und REASONS BEHIND wird es Zeit für die Headliner des heutigen Abends. Das Publikum wartet gespannt auf FROZEN CROWN, welche sich aufgrund technischer Probleme etwas verspäten.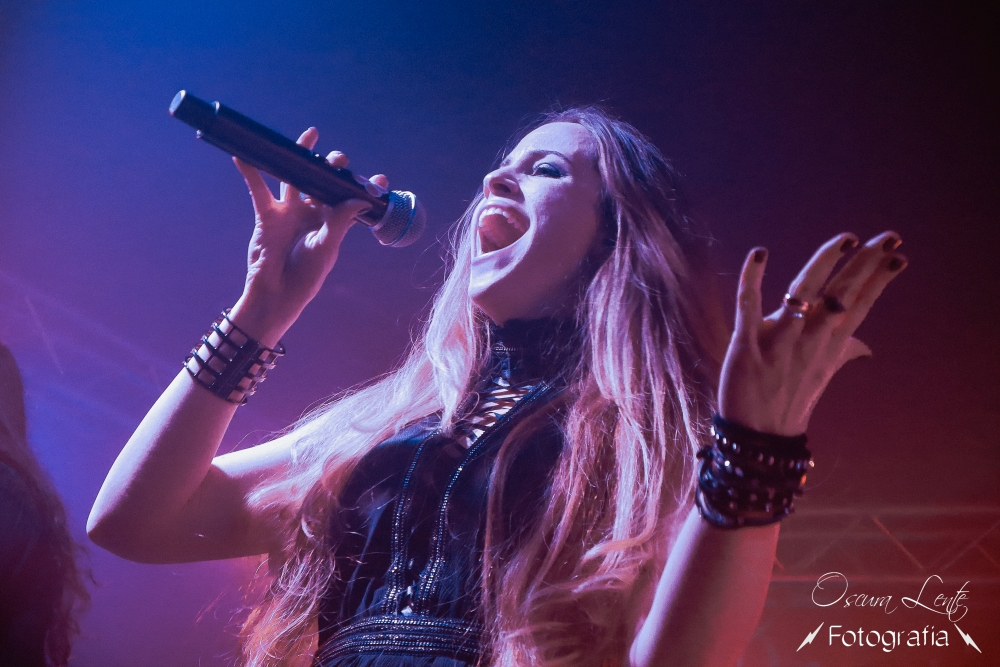 Aber was sind schon 25 Minuten Verspätung gegenüber 2 Jahren, die vergangen sind als FROZEN CROWN zum letzten Mal auf der Bühne standen.
Als das Saallicht erneut ausgeht wird die Band unter Jubelschreien und Applaus auf die Bühne gerufen.
Die ersten Töne von "Neverending" erklingen und versetzen das Publikum in Ektase. Frontfrau Giada "Jade" Etro betritt die Bühne und setzt mit Ihrer powervollen, energiegeladenen Stimme der Stimmung die "gefrorene Krone" auf.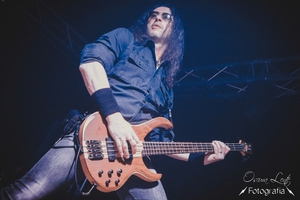 Schwungvoll weiter geht es mit "Embrace the Night", "The Water Dancer" und "Far Beyond" aus ihrem, im letzten Jahr veröffentlichten, dritten Album "Winterbane".
FROZEN CROWN schaffen es mit jedem Song das Publikum zu begeistern und das Letze aus den Fans herauszuholen. Die Stimmung könnte nicht besser sein. Die Menge tobt und hat sichtlich jede Menge Spaß.
Selbstverständlich dürfen Klassiker wie "Kings", "Everwinter" und "I am the Tyrant" an einem solchen Abend nicht fehlen.
FROZEN CROWN liefern feinsten Power-Metal, welcher sich durch unzählige erstklassige Riffs und Soli, kraftvolle Basslinien und hämmernde, schnelle Drums auszeichnet. Die kraftvolle Stimme von Frontfrau Giada und deren stimmliche Bandbandbreite harmonisieren dazu hervorragend.
Nun wird es Zeit eine weitere Premiere des heutigen Abends zu feiern. Es ist an der Zeit die neuen Bandmitglieder, welche im letzten Jahr, der Band beigetreten sind und heute Abend ihr Bühnendebüt feiern, vorzustellen. Die Menge heißt die Gitarristin Fabiola "Sheena" Bellomo, den Bassisten Francesco "Ikki" Zof und Niso Tomasini hinter den Drums herzlich und unter lautem Beifall willkommen.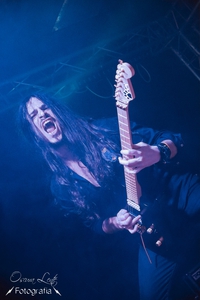 Leider neigt sich auch dieser schöne Abend langsam seinem Ende zu. Mit "The Shieldmaiden" beenden FROZEN CROWN einen grandiosen Abend, welcher von Anfang bis Ende dem Publikum das lieferte was es in den letzten beiden Jahren so schmerzlich vermisst hatte.
Die Menge verabschiedet FROZEN CROWN mit lautem Geschrei und Applaus.
Ich danke von Herzen: Scarlet Records, dem Legend Club, allen Bands und Allen die gekommen sind sowie Allen die dazu beigetragen haben, diesen Abend zu etwas Unvergesslichem zu machen.
Ein ganz besonderer Dank auch an Federico Mondelli für die Möglichkeit dieses Event fotografisch begleiten zu dürfen! Bis zum nächsten Mal!
Alle Bilder gibts auf meinen Social Media Kanälen:
Text und Fotos von Alex Wahl
_______________________________________________________________________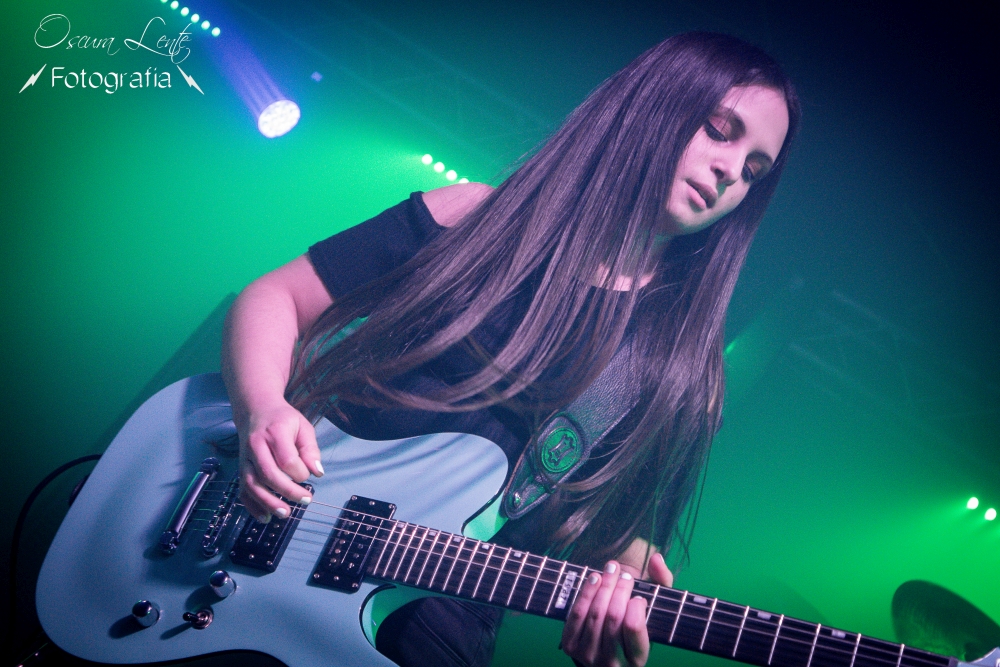 Finally a "normal" concert took place again in the Legend Club, Milan.
Scarlet Records presented three top bands out of their stable.
FROZEN CROWN who performed their latest record "Winterbane" live for the first time, accompanied by the modern metal of REASONS BEHIND and the symphonic-gothic band NOCTURNA who just released their debut album "Daughters of the Night".
The event attracted many visitors, which formed a long line even before the event started.
NOCTURNA
The evening starts a little late.
NOCTURNA have the honor to open the concert and heat up the audience. The hall lights turn off, the stage is bathed in dark light. Wafts of fog envelop the musicians in dark masks as they enter the stage. The first notes of "New Evil" ring out and frontwoman Rhen Stillnight enters the stage, followed by frontwoman Grace Darkling. The audience is immediately enthusiastic and cheers for them.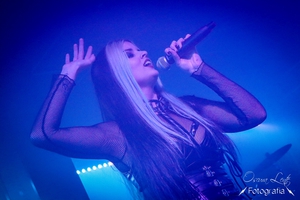 No wonder NOCTURNA know how to inspire the audience with their symphonic metal, neck breaking guitar riffs, pounding drum parts and bass lines. They captivate the crowd from the start.
It's not easy starting a band during a pandemic. But NOCTURNA showed us that it is possible. The pandemic is not over yet, the first album was released a few weeks ago.
"Daughters of The Night" focuses on the duality of frontwomen Grace Darkling and Rhen Stillnight. Their powerful voices and charismatic personalities stand out tonight, each with her own unique tone.
NOCTURNAS´S videos have already reached a million views on Youtube!
When the songs are announced, the audience cheers and sings along at the top of their lungs. The band is visibly touched by so much positive feedback, after all, tonight is their very first live performance.
The powerful vocal performance of the two frontwomen is extraordinary. Their voices fit together perfectly. Again and again they create the perfect bond between them and their bandmates.
Concluding with "Daughters of The Night" the title track of the debut album, a first class performance. NOCTURNA say goodbye to thunderous applause and leaves the stage visibly happy.
REASONS BEHIND
After this great start we continue with REASONS BEHIND. Their new album is called "Project M.I.S.T.". A look at the set list reveals that we will "only" hear songs from the current album tonight.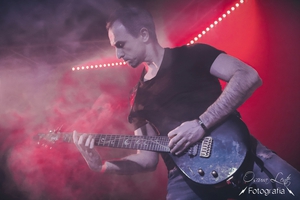 After the intro, "Fireflies In The Wind" kicks off, a powerful song. Frontwoman Ely already delivers a top performance here. It is her who gives the song the necessary heaviness.
REASONS BEHIND have been making music together since 2010. Over the years, the band developed from a pure symphonic metal to a modern metal band, in which REASONS BEHIND incorporate various sound gimmicks into their compositions.
"Living A Lie" starts with a healthy portion of speed. Hypnotic sounds greet the audience and gradually unleash fireworks that are slowed down again and again in order to be ignited again.
Hard riffs and an opaque sound are the characteristics of "Binary Stars", the last song of today's performance.
The audience clearly had fun and said goodbye to the four musicians with strong applause.
FROZEN CROWN
After two great performances by NOCTURNA and REASONS BEHIND it's time for tonight's headliner. The audience eagerly awaits FROZEN CROWN, which is a bit delayed due to technical problems.
But what are 25 minutes late compared to 2 years that have passed since FROZEN CROWN was on stage for the last time.
When the hall lights turn off again, the band is called onto the stage by cheers and applause.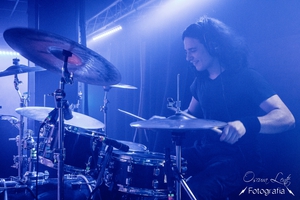 The first notes of "Neverending" sound and put the audience in ecstasy. Frontwoman Giada "Jade" Etro enters the stage and puts the "frozen crown" on the mood with her powerful, energetic voice.
It continues energetically with "Embrace the Night", "The Water Dancer" and "Far Beyond" from their third and current album "Winterbane", which was released last year.
FROZEN CROWN manage to inspire the audience with every track and get the last out of the fans. The mood couldn't be better. The crowd goes wild and is clearly having a lot of fun.
Of course, classics like "Kings", "Everwinter" and "I am the Tyrant" should not be missing on such an evening.
FROZEN CROWN deliver the finest power metal, which is characterized by countless first-class riffs and soli, powerful bass lines and pounding, fast drums. The powerful voice of frontwoman Giada and her vocal bandwidth harmonize perfectly.
Now it's time to celebrate another premiere of tonight. It's time to introduce the new band members who joined the band last year and make their stage debut tonight. The crowd warmly welcomes guitarist Fabiola "Sheena" Bellomo, bassist Francesco "Ikki" Zof and Niso Tomasini behind the drums with loud applause.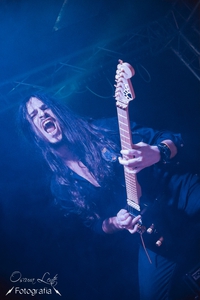 Unfortunately, this beautiful evening is slowly coming to an end. With "The Shieldmaiden" FROZEN CROWN end an epic evening, which from start to the end gave the audience what they had sorely missed in the last two years.
The crowd says goodbye to FROZEN CROWN with loud shouts and applause.
Thank you from the bottom of my heart: Scarlet Records, the Legend Club, all the bands and everyone who came and everyone who helped make this evening something unforgettable.
A very special thanks also goes out to Federico Mondelli for the opportunity to photograph this event! Until next time!
Of course you can find all photos on my Social Media Accounts
Text and photos by Alex Wahl