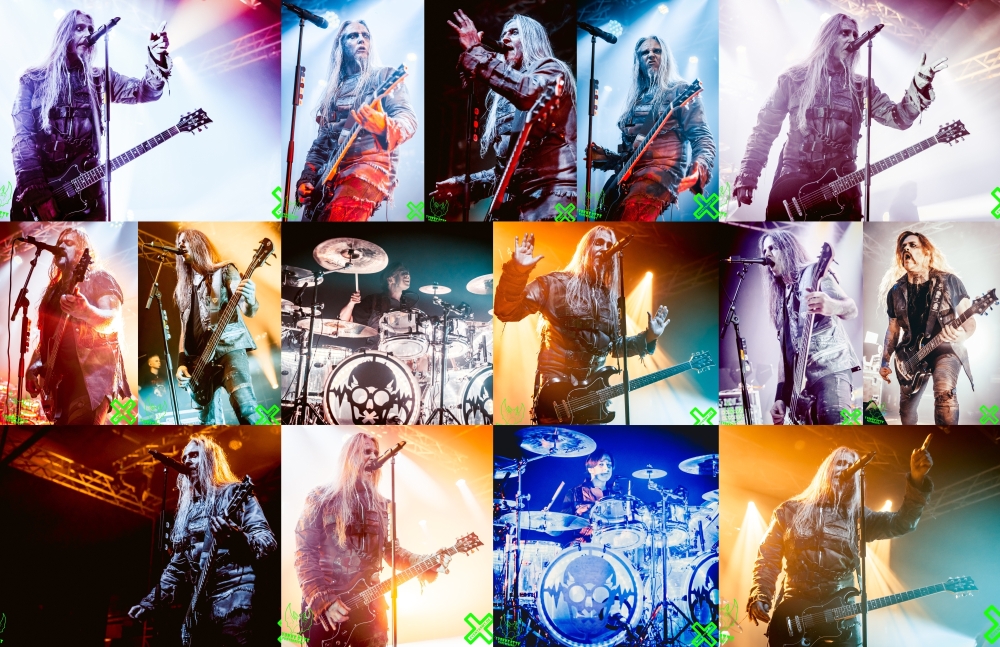 English below
Tourstart zur PAIN "I am"-Tour in der Essigfabrik in Köln. Da es ein langer Abend mit vier Bands werden sollte, war bereits um 18 Uhr Einlass und schon um 18:30 Uhr begann die japanische Band RYUJIN mit ihrem gut 30-minütigen Set. Einigen mag die Band noch unter dem Namen GYZE ein Begriff sein, mit dem sie schon mehrfach in Deutschland unterwegs waren. Musikalisch passten an diesem Abend alle Bands gut zusammen. Eine Band musste den Anfang in diesen Abend voll großartiger Bands machen und das waren RYUJIN. Da es noch sehr früh war, waren viele Gäste noch nicht da oder verweilten noch draußen, da das Wetter dazu einlud, noch etwas draußen zu verweilen. Als die ersten Töne erklangen, kamen allerdings noch einige Besucher in die Halle. Die Stimmung war trotz des frühen Starts sehr gut und es wurde lautstark mitgemacht. Ein toller Start in diesen Konzertabend.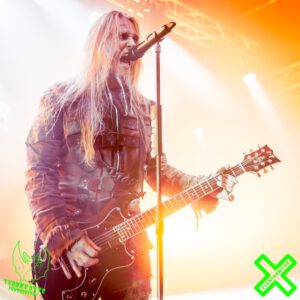 Da vier Bands auftreten sollten, gingen die Umbauphasen zügig über die Bühne. So wurden den Zuschauern auch lange Wartezeiten erspart. Gegen kurz nach sieben sollte dann die schwedische Band ELEINE auf die Bühne kommen. Sie sagten, sie seien 2023 schon mehrfach in der Essigfabrik gewesen. Für ELEINE war der Auftritt also ein Heimspiel. Man konnte sehen, wie wohl sie sich auf der Bühne fühlten und ordentlich Stimmung machten. Mittlerweile hatte sich die Halle auch gut gefüllt. Ausverkauft war der Abend nicht und es gab noch Karten an der Abendkasse. Für die Konzertbesucher war das aber genau richtig, denn so gab es Platz zum ausgelassenen Feiern, was sehr viele nutzten. ELEINE sind eine unglaublich gute Liveband. Sie machten nicht nur unglaublich viel Stimmung und Spaß, sondern waren auch musikalisch live extrem gut. Die Interaktion mit dem Publikum wurde hier großgeschrieben und das kam immer sehr gut an. Außerdem waren sie nach der Show immer am Merch-Stand und machten Fotos mit den Fans und schrieben ausgiebig Autogramme. Leider durften auch ELEINE nicht allzu lange spielen. Sie waren eben nur die Vorband und mussten die Bühne räumen, damit der Umbau für ENSIFERUM starten konnte.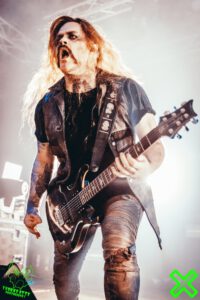 Auch dieser Umbau ging blitzschnell über die Bühne. Wer sich vorher in der Halle umgesehen hatte, konnte viele extra für die Band geschminkte Fans sehen. Die Fangemeinde von ENSIFERUM war zahlreich erschienen, und so war es auch kein Wunder, dass die Band, als sie die Bühne betraten, mit viel Freude empfangen wurde. Ein bisschen hörte es sich so an, als würde der Headliner des Konzerts gerade die Bühne betreten. Im Laufe der Show merkte man, dass die Stimmung auf diesem hohen Niveau blieb. Es herrschte eine unglaubliche Energie auf der Bühne und im Publikum. Definitiv eine Band, die Spaß macht und bei der die Zeit viel zu schnell vorüberging.
Es folgte der letzte Umbau an diesem Abend. Es war mittlerweile spät geworden. Die Fans wirkten aber immer noch voller Energie. Gegen 21:30 Uhr betraten nun endlich auch PAIN die Bühne. Dabei konnte man deutlich hören, dass es eine Steigerung im Vergleich zu ENSIFERUM gab und der Headliner mit noch mehr Begeisterung empfangen wurde. Peter Tägtgren betrat die Bühne und startete sofort in den ersten Song. Die Energie in der Essigfabrik war deutlich spürbar, und die Fans sangen und tanzten begeistert mit.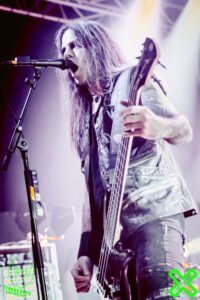 PAIN präsentierten eine beeindruckende Auswahl an Songs aus ihrer langen Karriere, darunter "Party In My Head" und "Coming Home". Aber auch neue Songs durften nicht fehlen und Peter versprach, dass das neue Album bald erscheinen würde. Als er den Song "Revolution" ankündigte, sagte er, dass nun der schwierigere Teil der Show beginnen würde, weil sie diesen Song noch nie live gespielt hatten.
Die Mischung aus Metal-Riffs, elektronischen Elementen und Tägtgrens charismatischem Gesang sorgte für eine mitreißende Atmosphäre. Die Lichtshow, der Nebel und die visuellen Effekte verstärkten die Wirkung der Musik und rundeten den Gesamteindruck ab.
Von wütenden, harten Rhythmen bis hin zu melancholischen, introspektiven Momenten – die Setlist bot für jeden Geschmack etwas. Das Publikum schien jeden Moment zu genießen und feierte die Band mit enthusiastischem Applaus und lauten Anfeuerungsrufen.
Entgegen der Erwartungen war Peter Tägtgren sehr gesprächig. Er erwies sich als charismatischer Frontmann, der das Publikum immer wieder ansprach und die Stimmung anheizte.
Der Höhepunkt des Abends war zweifellos die Zugabe, bei der PAIN mit ihrem Song "Shout Your Mouth" das Publikum in Ekstase versetzten. Die Fans sangen lauthals mit und tanzten. Bereits bei den ersten Klängen des Liedes gab es kein Halten mehr. Darauf hatten sie den ganzen Abend gewartet. Kaum ein Lied eignet sich besser, um ein Konzert zu beenden.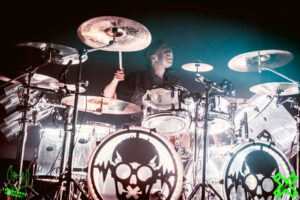 Insgesamt war das PAIN-Konzert in der Essigfabrik ein unvergesslicher Abend voller großartiger Musik und leidenschaftlicher Performance. Die Band und das Publikum schienen eine besondere Verbindung zu haben, die sich in der enthusiastischen Atmosphäre widerspiegelte. Es war ein Konzert, das die Herzen der Fans höherschlagen ließ und bewies, dass PAIN auch nach all den Jahren immer noch in der Lage sind, ihre Fans zu begeistern und eine erstklassige Show abzuliefern. Die großartige Auswahl der Vorbands rundete den Abend ab und machte ihn zu einem unvergesslichen Konzerthighlight des Jahres.
Alle Bilder gibt es natürlich auf Flickr.
Text und Fotos von Yvonne Otte
———————————————————————————————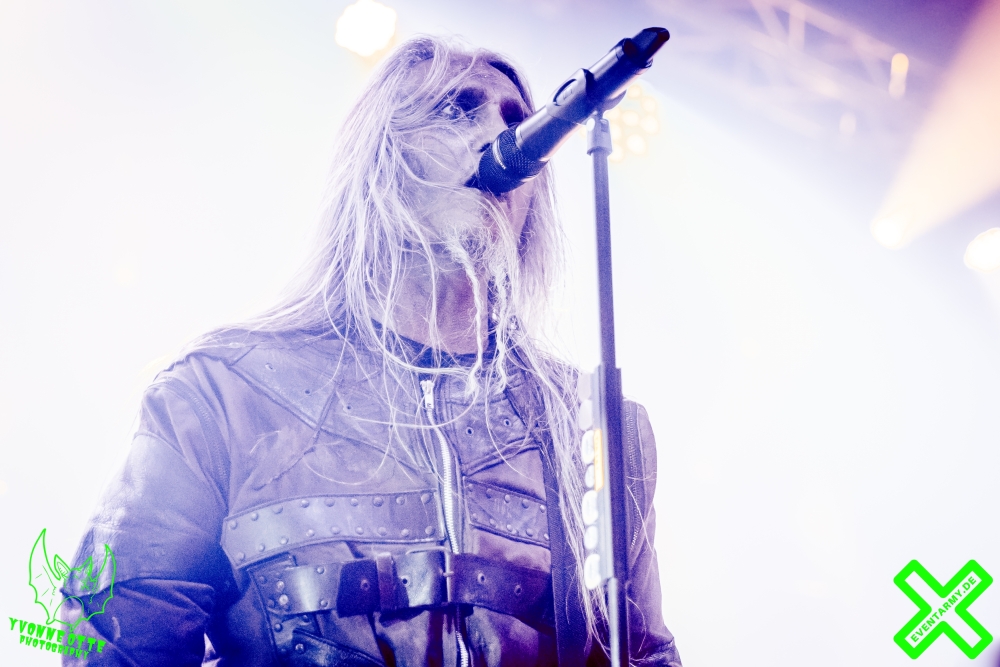 Tour start for the PAIN "I am" Tour at the Essigfabrik in Cologne. As it was going to be a long evening with four bands, the doors opened at 6:00 PM, and the Japanese band RYUJIN began their approximately 30-minute set at 6:30 PM. Some may still remember the band under the name GYZE, with which they had toured in Germany multiple times. Musically, all the bands matched well on this evening. One band had to kick off this evening filled with great bands, and that was RYUJIN. Since it was still early, many guests had not yet arrived or were still outside, as the weather invited them to stay outdoors for a bit longer. However, when the first notes sounded, some more visitors made their way into the hall. Despite the early start, the atmosphere was very good, and there was enthusiastic participation. A great start to this concert evening.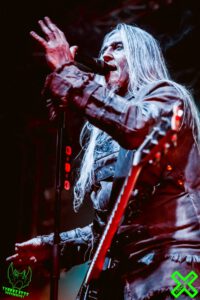 Since four bands were scheduled to perform, the changeover phases on stage went swiftly, saving the audience from long waiting times. Shortly after 7:00 PM, the Swedish band ELEINE was supposed to take the stage. They mentioned that they had already performed at the Essigfabrik several times in 2023. So, for ELEINE, this performance was like playing at home. You could see how comfortable they felt on stage, and they created a lively atmosphere. Meanwhile, the hall had filled up nicely. The evening was not sold out, and there were still tickets available at the box office. However, for the concertgoers, this was just right because it allowed plenty of space for exuberant celebrations, which many took advantage of. ELEINE are an incredibly good live band. They not only created a lot of excitement and fun but were also extremely talented musicians on stage. Interaction with the audience was emphasized, and it was always well-received. Furthermore, they were always at the merchandise stand after the show, taking photos with fans and signing autographs extensively. Unfortunately, ELEINE were not allowed to play for too long. They were just the opening act and had to clear the stage for the setup of ENSIFERUM.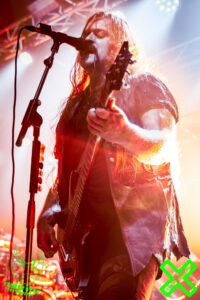 This changeover also went by in a flash. Those who had looked around the hall earlier could see many fans, specially dressed for the band. The ENSIFERUM fan base had turned out in large numbers, and it was no wonder that when the band took the stage, they were received with great enthusiasm. It almost sounded like the headliner of the concert was entering the stage. During the show, it became apparent that the energy remained at this high level. There was incredible energy on stage and in the audience. Definitely a band that is a lot of fun, and the time passed by too quickly.
The final setup of the evening followed. It had become quite late by then. However, the fans still appeared full of energy. Finally, around 9:30 PM, PAIN also took the stage. It was clear that there was an increase in excitement compared to ENSIFERUM, and the headliner was received with even greater enthusiasm. Peter Tägtgren entered the stage and immediately launched into the first song. The energy at the Essigfabrik was palpable, and the fans sang and danced with enthusiasm.
PAIN presented an impressive selection of songs from their extensive career, including "Party In My Head" and "Coming Home." But new songs were not to be missed, and Peter promised that their new album would be released soon. When he announced the song "Revolution," he mentioned that the more challenging part of the show was beginning because they had never played this song live before. The mix of metal riffs, electronic elements, and Tägtgren's charismatic vocals created a captivating atmosphere. The light show, fog, and visual effects enhanced the impact of the music and completed the overall impression.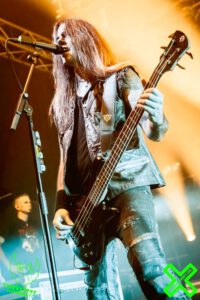 From furious, hard rhythms to melancholic, introspective moments, the setlist offered something for every taste. The audience seemed to enjoy every moment and celebrated the band with enthusiastic applause and loud cheers.
Contrary to expectations, Peter Tägtgren was very talkative. He proved to be a charismatic frontman who frequently engaged with the audience and fueled the atmosphere. The highlight of the evening was undoubtedly the encore, during which PAIN's song "Shout Your Mouth" sent the audience into ecstasy. The fans sang loudly and danced. There was no holding back from the very first notes of the song. This was what they had been waiting for the entire evening. Hardly any song could be better suited to end a concert.
Overall, the PAIN concert at the Essigfabrik was an unforgettable evening filled with great music and passionate performance. The band and the audience seemed to share a special connection that was reflected in the enthusiastic atmosphere. It was a concert that made the fans' hearts beat faster and proved that even after all these years, PAIN still had the ability to excite their fans and deliver a top-notch show. The excellent selection of opening acts rounded off the evening and made it an unforgettable concert highlight of the year.
All pictures are, of course, available on Flickr.
Text and photos by Yvonne Otte.