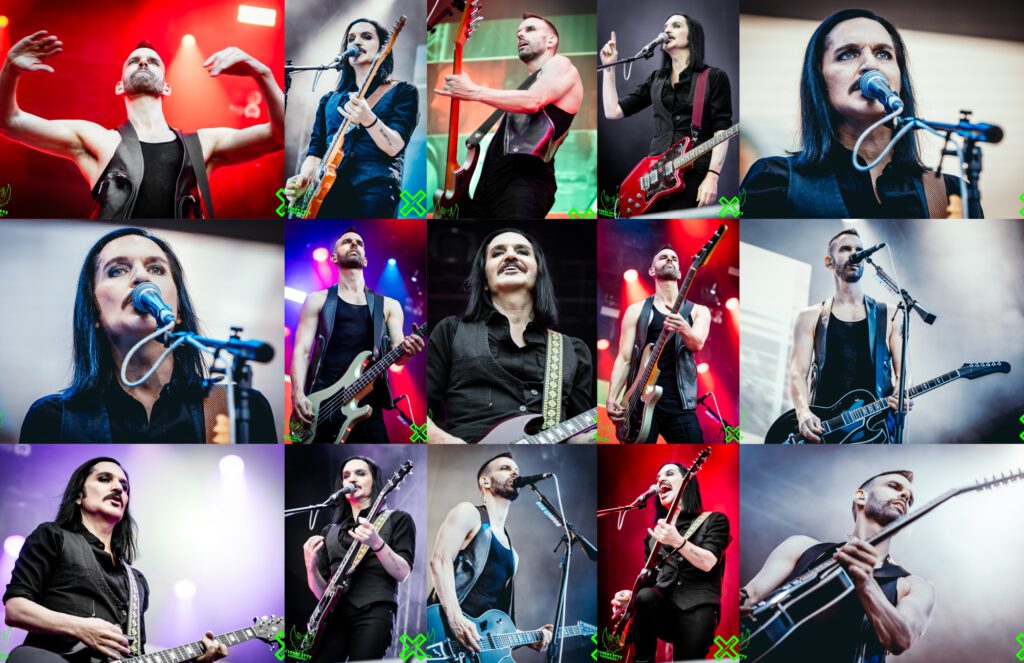 English below
Ganze neun Jahre mussten die Fans von PLACEBO auf ein neues Album warten. Das lange Warten hatte sich gelohnt, denn mit "Never Let Me Go" schafften es Brian Molko und Stefan Olsdal an die Spitze der deutschen Charts. Auch wenn der Sound etwas elektronischer geworden ist, haben die Songs immer noch den typischen PLACEBO-Klang, der jedes Lied sofort als eines der Band enttarnt. Natürlich hat Brians Stimme auch einen extrem hohen Wiedererkennungswert und egal, was sie spielen, man erkennt die Band an seiner Stimme. Dennoch sind sie sich in gewisser Weise treu geblieben. Zum Album gehört eine Tour, und so touren PLACEBO gerade ausgiebig durch die Welt mit ihrer "Never Let Me Go" – Tour.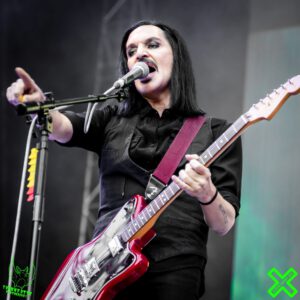 Nachdem sie letztes Jahr bereits im November bei uns in NRW waren und eine großartige Show in Köln gespielt hatten, sollte nun in Bonn unter freiem Himmel ihr letztes Deutschlandkonzert der Tour stattfinden. Wie bereits bei den vergangenen Shows wiesen PLACEBO auch dieses Mal darauf hin, dass die Handys in der Tasche bleiben sollen, damit man das Konzert vollkommen genießen kann. Bei den Release-Shows zum neuen Album waren Handys komplett verboten. Anstatt etwas zu verbieten, hat die Band nun eine freundlichere Version versucht. Dennoch ist es schwer vorstellbar, dass die Besucher sich daran halten würden, denn irgendwie ist es eben die heutige Zeit, in der alles mit dem Handy festgehalten wird. Jede Zeit hat ihre Besonderheiten. Vor Showbeginn kam eine Nachricht von Brian mit der Bitte, die Handys nicht zu benutzen, die dann für alle nochmals auf Deutsch übersetzt wurde. PLACEBO sind dafür bekannt, dass sie nicht viel vom Fotografieren und Filmen während der Show halten. Das betrifft nicht nur das Publikum, sondern auch die Presse. Der Ansatz der Band war dennoch gut. Über Verbote wird gemeckert und sich beschwert, über Bitten höchstens diskutiert.
Gegen Viertel nach acht sollte es dann endlich losgehen. Die Fläche des "Kunst!rasens" war gut gefüllt. Sicherlich gab es auch noch Restkarten, aber mit rund 8000 Besuchern war das Konzert gut besucht. Das Wetter spielte ebenfalls mit: strahlender Sonnenschein und angenehme Temperaturen um die 25 Grad. Als PLACEBO mit dem Beginn von "Forever Chemicals" die Bühne betraten, gab es für die 8000 Fans kein Halten mehr.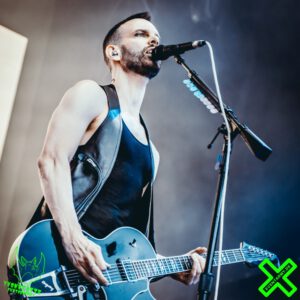 Wer schon einmal auf einem PLACEBO-Konzert war, der weiß, dass hier nicht viel gesprochen wird. Dafür bekommt man Livemusik vom Feinsten. Im Vergleich zu Köln im letzten Jahr schien die Band allerdings sehr gut gelaunt und weniger distanziert. Ansagen gibt es bei einem PLACEBO-Konzert selten viele, so auch an diesem Abend nicht. Allerdings haben sowohl Brian als auch Stefan sich die Mühe gemacht, das wenige Gesprochene auf Deutsch zu sagen. Generell kam von Brian mehr Gestik und man hatte auch den Eindruck, dass er mehr den Kontakt zum Publikum suchte als im vergangenen Jahr in Köln. Des Öfteren stand er auch am Bühnenrand. PLACEBO-Fans erwarten allerdings auch nie lange Ansagen oder andere Kontaktaufnahmen und sind auch nicht enttäuscht, dass so wenig kommuniziert wird. So kennen sie ihre Band, und so lieben sie PLACEBO auch. Man könnte fast schon sagen: Das muss so sein. Auch ohne Ansagen wussten die Fans nach den ersten Sekunden, welches Lied an der Reihe war. Textsicher war die Masse an Menschen sowieso. Jedes Lied wurde laut mitgesungen. Die Stimmung war spitzenmäßig.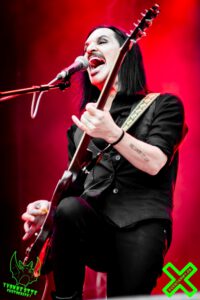 Gespielt wurden 19 Lieder. Davon 9 vom neuen Album und mit "Shout" von TEARS FOR FEARS und "Running Up That Hill" von KATE BUSH zwei Coversongs. Der Rest, der noch übrigblieb, waren Hits wie "Song To Say Goodbye", "The Bitter End" oder "For What It's Worth". Sicherlich ist es ungewöhnlich, dass eine Band fast das komplette neue Album spielt, wenn sie auf acht Studioalben und entsprechend viele Lieder zurückgreifen könnte. Ob diese hohe Anzahl an neuen Songs jetzt übertrieben war, ist sicherlich auch Geschmackssache. Die Stimmung jedenfalls, auch mit der Songauswahl, war sehr gut, sodass mehr Hits zur Verbesserung der Stimmung nicht nötig waren. Das eine oder andere Lied hat man allerdings doch auf der Setlist vermisst. Sicherlich hätten zumindest die Besucher, die letztes Jahr in Köln waren, sich eine etwas andere Setlist gewünscht. Das neue Album ist nicht mehr ganz so neu, da wären die meisten Besucher wohl nicht traurig gewesen, wenn man die Anzahl der "Never Let Me Go"-Songs reduziert und dafür mehr Klassiker gespielt hätte. Allen kann man es allerdings nie recht machen. Besonders das TEARS FOR FEARS Cover kam sehr gut an. Was PLACEBO anpacken, kann nur gut werden. Anders als sonst hat hier Stefan Olsdal und nicht Brian Molko einen Großteil gesungen. Großartige Coverversion in typischem PLACEBO-Sound neu aufgelegt.
Abgerundet wurde das Konzert mit einer Lichtshow, die allerdings aufgrund der frühen Startzeit zumindest anfangs unterging. Begleitet vom Licht gab es im Hintergrund eine sehr große LED-Wand. Die große Bühne muss ja auch irgendwie gefüllt werden, und so war das Bild stimmig.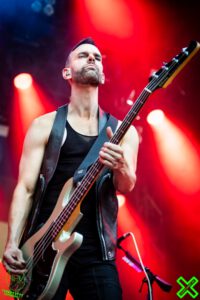 Wer lange Ansagen bei einem Konzert möchte, der ist bei PLACEBO definitiv falsch. Hier steht die Musik im Vordergrund, und das war schon immer so und wird wohl auch immer so bleiben. Das kann man gut oder schlecht finden. Fakt ist, dass PLACEBO auch nach mehr als 25 Jahren die Hallen noch füllen und nicht von der Bildfläche verschwunden sind.
Da waren PLACEBO so lange von der Bildfläche verschwunden, und nun ist auch das letzte Konzert in Deutschland vorbei. Für viele Fans sicherlich mit einem mulmigen Gefühl, weil man nicht weiß, wann und ob man Brian und Stefan wieder live zu sehen bekommt. Das neue Album überzeugt, und PLACEBO sind live einfach immer einen Besuch wert. Es wäre schade oder gar eine Schande, wenn die Fans jetzt wieder neun Jahre auf neues Material warten müssten.
Und wer sich jetzt fragt: Wie war das mit der Bitte, das Handy in der Tasche zu lassen? Ja, das hat tatsächlich funktioniert. Natürlich hat man das eine oder andere Handy gesehen, aber das war tatsächlich die Ausnahme. Mit Bitten kommt man eben doch weiter als mit Verboten. Fragwürdig ist allerdings, wenn es doch eine Bitte war, warum die Security jeden, der das Handy angesetzt hat, um vielleicht ein Bild zur Erinnerung zu machen, ermahnt hat. So bekommt das Ganze leider doch einen bitteren Beigeschmack.
Alle Bilder gibt es natürlich auf Flickr.
Text und Fotos von Yvonne Otte.
——————————————————————————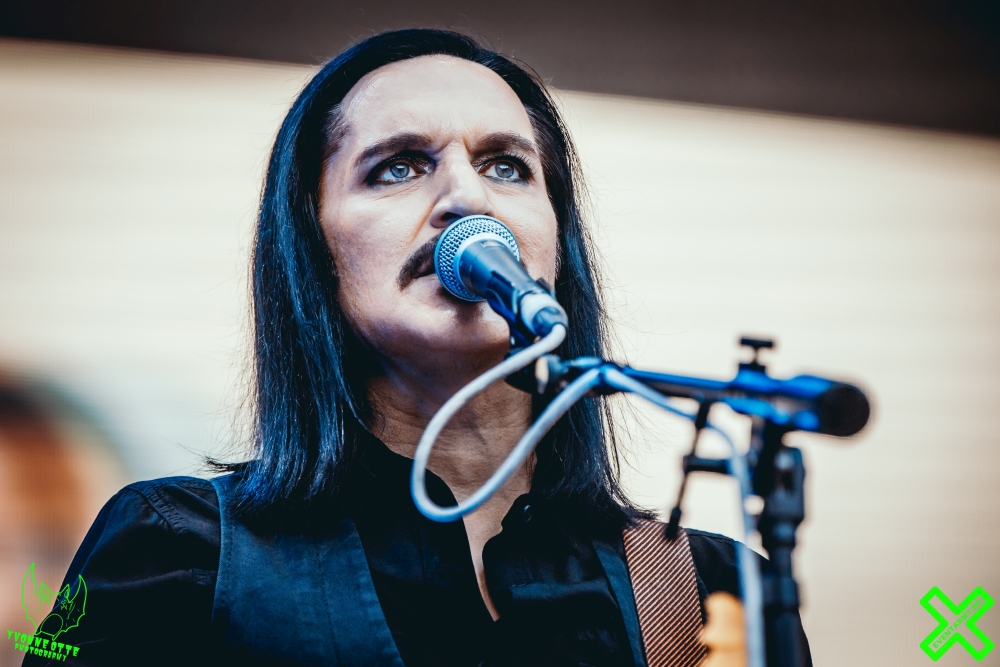 Fans of PLACEBO had to wait a whole nine years for a new album. The long wait was worth it, as Brian Molko and Stefan Olsdal reached the top of the German charts with "Never Let Me Go." Even though the sound has become somewhat more electronic, the songs still possess the distinctive PLACEBO sound that immediately identifies each song as one of the band's. Naturally, Brian's voice also carries an extremely high level of recognition, and no matter what they play, the band is recognized by his voice. Nevertheless, they have remained true to themselves in a certain way. A tour is part of the album, and so PLACEBO are currently extensively touring the world with their "Never Let Me Go" tour.
After performing in NRW last November, including a fantastic show in Cologne, they were now set to have their final concert of the tour in Bonn under the open sky. As in previous shows, PLACEBO once again emphasized that mobile phones should remain in their pockets to fully enjoy the concert. Mobile phones were completely prohibited at the release shows for the new album. Instead of imposing a ban, the band has now attempted a friendlier approach. However, it is difficult to imagine that visitors would adhere to this, as it is the current era where everything is captured with mobile phones. Each era has its peculiarities. Before the show started, a message from Brian asking not to use mobile phones was communicated, and it was translated into German for everyone once again. PLACEBO is known for not favoring photography and filming during the show. This applies not only to the audience but also to the press. Nevertheless, the band's approach was commendable. People tend to complain and object to prohibitions, but they may discuss requests at most.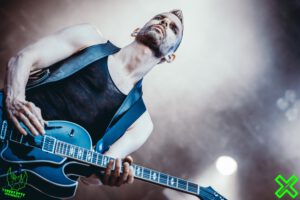 Around a quarter past eight, the show was finally set to begin. The area of the "Kunst!rasen" was well-filled. There may have been some remaining tickets, but the concert was well attended with around 8,000 visitors. The weather also cooperated: radiant sunshine and pleasant temperatures around 25 degrees Celsius. When PLACEBO took the stage with the start of "Forever Chemicals," there was no holding back for the 8,000 fans.
For those who have been to a PLACEBO concert before, they know that there isn't much talking. Instead, they offer top-notch live music. In comparison to Cologne last year, the band seemed much more cheerful and less distant. Announcements are rare at a PLACEBO concert, and that was no exception this evening. However, both Brian and Stefan made the effort to say a few words in German. Generally, Brian used more gestures, and there was also the impression that he sought more interaction with the audience than in the previous year in Cologne. He often stood at the edge of the stage. Nevertheless, PLACEBO fans never expect long announcements or other interactions, and they are not disappointed by the limited communication. That's how they know their band, and that's how they love PLACEBO. One could almost say: It must be that way. Even without announcements, fans knew which song was next after the first few seconds. The crowd was already familiar with the lyrics. Every song was sung along loudly. The atmosphere was fantastic.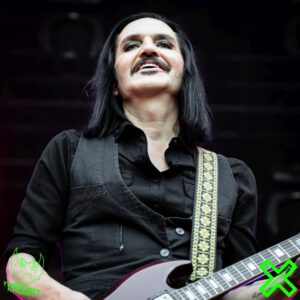 Nineteen songs were played. Among them, nine were from the new album, and there were two cover songs: "Shout" by TEARS FOR FEARS and "Running Up That Hill" by KATE BUSH. The remaining selections included hits like "Song To Say Goodbye," "The Bitter End," and "For What It's Worth." It's certainly unusual for a band to play almost the entire new album when they have eight studio albums and a correspondingly large number of songs to draw from. Whether this high number of new songs was excessive is undoubtedly a matter of personal taste. Nevertheless, the atmosphere, along with the song choices, was very good, so more hits weren't necessary to enhance the mood. However, there were a couple of songs that were missed on the setlist. Certainly, at least the attendees who were in Cologne last year would have preferred a somewhat different setlist. The new album is no longer quite so new, so most attendees probably wouldn't have been disappointed if the number of "Never Let Me Go" songs had been reduced in favor of more classics. However, it's impossible to please everyone. The TEARS FOR FEARS cover was particularly well received. Anything PLACEBO takes on can only turn out well. Unlike usual, Stefan Olsdal, not Brian Molko, sang a significant portion. A fantastic cover version in the distinctive PLACEBO sound reimagined anew.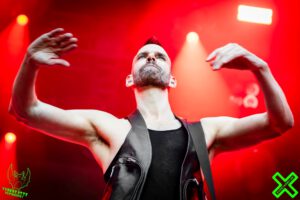 The concert was rounded off with a light show, which, however, initially faded due to the early start time. Accompanied by the lights, there was a very large LED wall in the background. The large stage had to be filled somehow, and thus, the visual aspect was coherent.
For those seeking lengthy announcements at a concert, PLACEBO are definitely not the right fit. Here, the music takes precedence, and that's how it has always been and likely always will be. One can view this positively or negatively. The fact remains that even after more than 25 years, PLACEBO continue to fill venues and hasn't vanished from the scene.
Having been absent from the scene for so long, PLACEBO have now concluded their last concert in Germany as well. For many fans, this is likely accompanied by a sense of unease, as one doesn't know when or if they will get to see Brian and Stefan live again. The new album is impressive, and seeing PLACEBO live is always worth it. It would be a pity, or even a shame if fans had to wait another nine years for new material.
And for those wondering: How did the request to keep the mobile phones stowed away work out? Well, it actually worked. Of course, the occasional mobile phone was spotted, but that was indeed the exception. Appeals seem to be more effective than prohibitions. However, it's questionable that if it was a mere request, why did security reprimand anyone who attempted to use their mobile phones, perhaps to take a picture for memories? This unfortunately taints the whole situation with a bitter aftertaste.
All pictures can be found on Flickr.
Text and photos by Yvonne Otte.