English below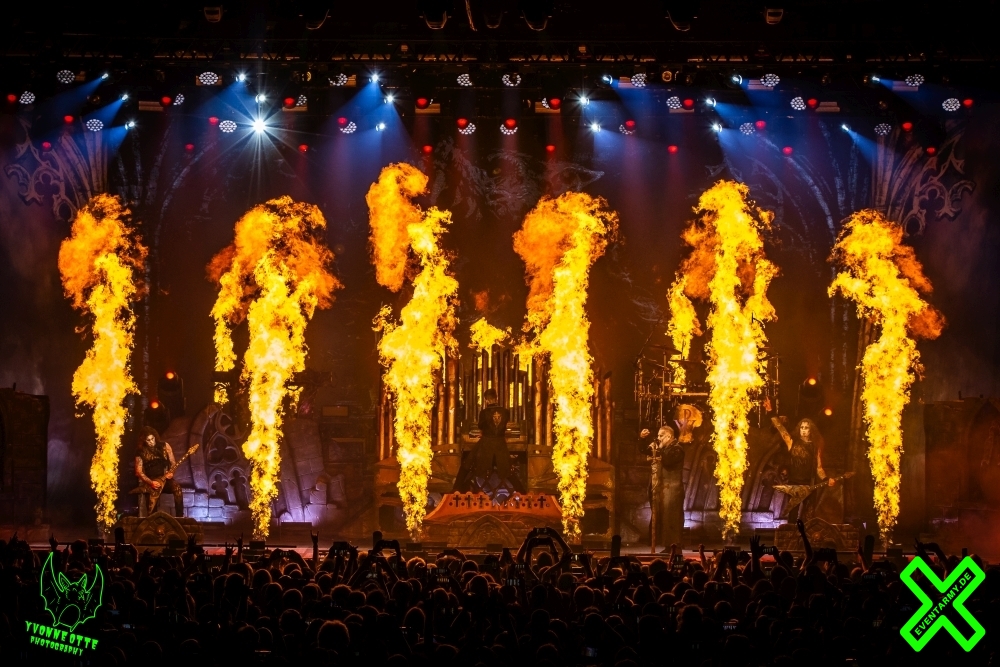 Wenn POWERWOLF zur "Metal-Mass" rufen, erscheinen ihre treuen Fans immer und überall zahlreich. So auch zum Tourstart der "Wolfsherbsttour" in Düsseldorf. Bereits gegen 16 Uhr waren geschätzt 200 Leute vor der Halle. POWERWOLF-Konzerte sind Highlights, da möchte man vorne mit dabei sein. So wundert es einen nicht, warum die Fans schon so früh vor der Halle auf Einlass warteten.
Gegen sieben Uhr sollte es schon mit der ersten Band losgehen. SERENITY, die sympathische Band aus Österreich, sollte den Anfang an diesem Konzertabend machen. Für gewöhnlich hat es der Opener nicht einfach. Die meisten Leute kommen für den Headliner. Für viele ist der Opener ein lästiges Übel, der den Abend unnötig verlängert. So war es allerdings nicht an diesem Abend in Düsseldorf. Von der ersten Sekunde an hatten SERENITY die fast ausverkaufte Mitsubishi Electric Halle in ihren Bann gezogen. Diese Band weiß einfach, wie man Stimmung macht und eine großartige Show spielt. Neben alten Liedern wurden auch Neue aus dem am 03.11.2023 erscheinenden Album namens "Nemesis AD" gespielt. Die Band scherzte, dass möglichst viele das Album kaufen sollten, damit sie vor HELENE FISCHER in den Charts stehen würden. Die Zeit verging leider viel zu schnell. 2024 kann man SERENITY dann auch auf ihrer eigenen Tour sehen, natürlich mit mehr Liedern.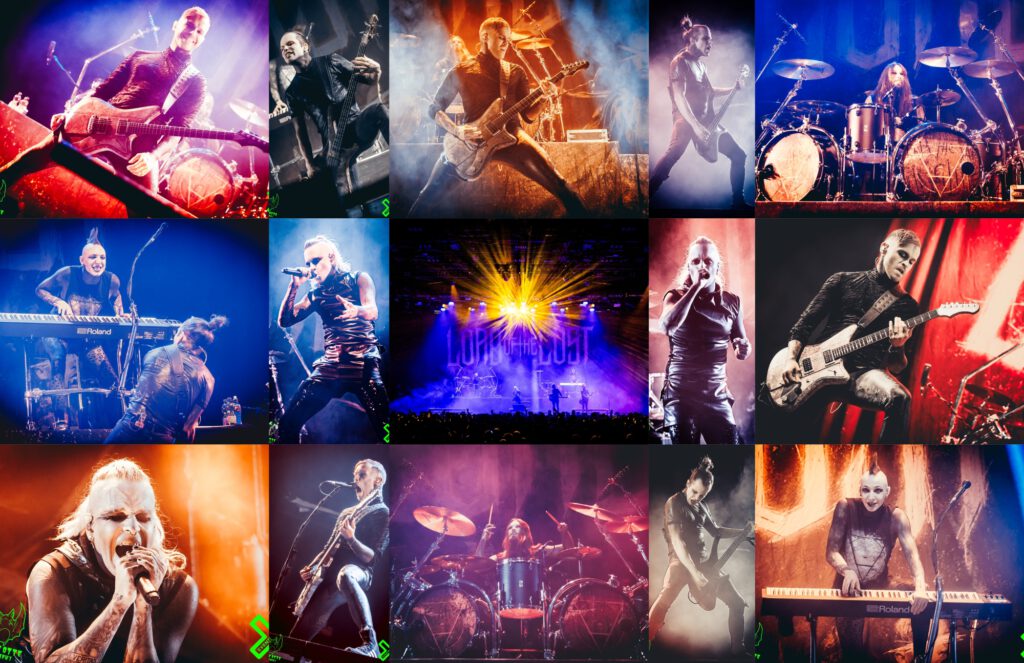 Gegen acht Uhr ging es dann weiter mit LORD OF THE LOST. Spätestens seit ihrem Auftritt in Liverpool beim ESC kennt wohl jeder die Hamburger Band. Eine Band, die live einfach nahezu unschlagbar ist und egal, wo sie auftritt, einfach nur eine Show abliefert, die sprachlos macht. So auch natürlich in Düsseldorf. Hätte man nicht gewusst, dass POWERWOLF noch auftreten würden, hätte man meinen können, LORD OF THE LOST wären der Headliner des Abends. Sicherlich waren auch sehr viele LORD OF THE LOST-Fans anwesend, aber das allein kann es nicht gewesen sein, denn besonders auch in den vorderen Reihen der Halle wurde kräftig mitgefeiert und in den vorderen Reihen befinden sich meistens die Fans des Headliners. LORD OF THE LOST ziehen einen in ihren Bann und man kann nicht anders als mitzumachen. Die Stimmung war großartig. Ein LORD OF THE LOST-Konzert muss man sehen, man muss dabei sein, denn man scheitert beim Versuch, es in Worte zu fassen. Auch diese Show verging leider viel zu schnell. Kleiner persönlicher Kritikpunkt hier ist, dass man vielleicht zu Halloween etwas Besonderes beim Make-Up erwartet hätte. Das ändert allerdings nichts an der großartigen Show, die die Hamburger abgeliefert haben.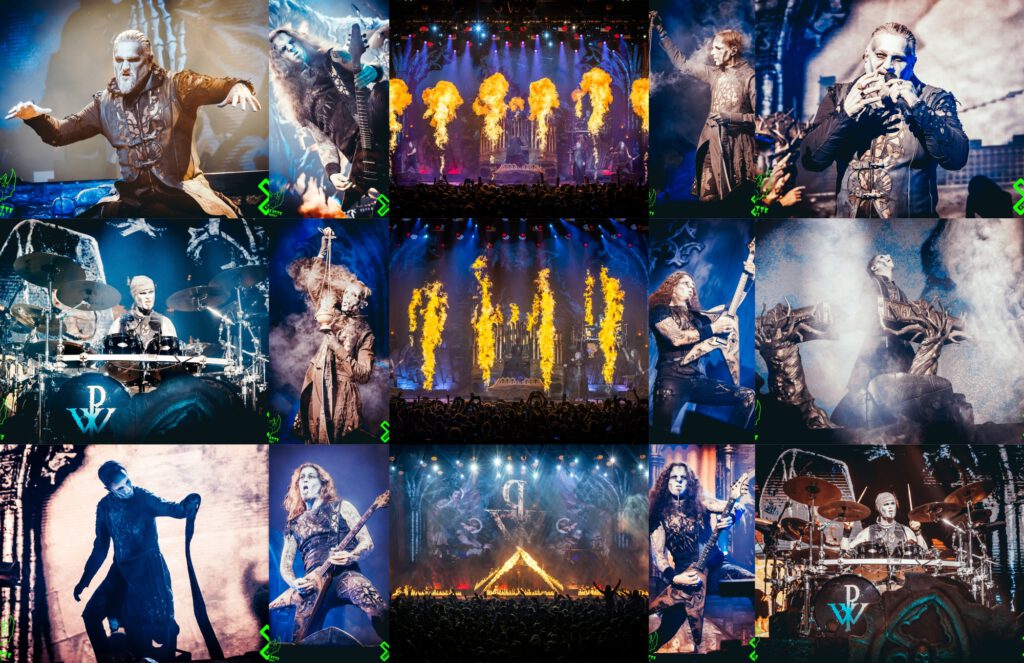 Egal, ob Halloween oder nicht, die POWERWOLF-Fans erscheinen immer zahlreich mit geschminkten Gesichtern. Dieses Mal waren allerdings wirklich auch Gäste verkleidet gekommen und nicht nur mit geschminkten Gesichtern. Gegen Viertel nach neun sollte die POWERWOLF-Show beginnen. Das lange Warten, was allen allerdings mit zwei großartigen Konzerten versüßt wurde, hatte endlich ein Ende. Von Beginn an gab es kein Halten mehr für die Fans. Die beiden vorangegangenen Shows hatten eine bombastische Stimmung, aber als POWERWOLF die Bühne betraten, wurde diese noch getoppt. Auf die treuen Fans ist immer Verlass. Power von der ersten bis zur letzten Minute auf beiden Seiten – den Fans und der Band. So machen Konzerte Spaß! POWERWOLF machen nicht nur fantastische Musik, ihre Konzerte sind immer auch ein Highlight. In Düsseldorf war die erste Show der "Wolfsherbst"-Tour. Niemand wusste also vorher, was man zu erwarten hat, welche Lieder gespielt werden würden und wie viele. Gespielt wurden dann 18 Lieder, darunter gab es die Live-Debuts von "Wolves Of War" und "Alive or Undead". Begleitet wurden die Lieder natürlich mit jeder Menge Feuer, Konfetti und Funkelregen. Hier wird nicht nur den Ohren perfekter Sound geboten, sondern auch den Augen wird einiges geboten. Da POWERWOLF-Fans meistens Wiederholungstäter sind, wird das alles für die meisten nichts Neues gewesen sein. Dennoch tobte die Halle, wenn die Konfettikanonen losgingen. Besonders eindrucksvoll sieht es natürlich aus, wenn die Bühne optisch in Flammen steht. Man kann es zigmal gesehen haben, und dennoch ist Feuer immer etwas Besonderes. Optisch hat auch die gigantische LED-Wand im Hintergrund der Bühne Eindruck gemacht. Früher hatten die Bands große Banner auf Tour, jetzt gibt es dafür LED-Wände. Bei POWERWOLF wurden so 3D-Effekte kreiert, was der Show nochmal das besondere Etwas verliehen hat. Gespielt wurde gut zwei Stunden, das ist Standard für POWERWOLF. Mit den beiden Vorbands zusammen kamen die Gäste also wirklich auf ihre Kosten.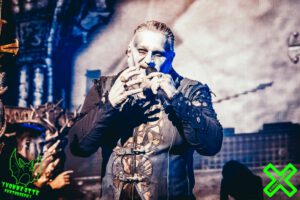 Alles zusammen gibt es nichts zu kritisieren. Der Klang war bei allen Bands hervorragend, sodass es wirklich ein Genuss war, zuzuhören. Optisch hat man in der Vergangenheit bei LORD OF THE LOST bessere Shows gesehen, aber Bands verändern ihren Stil auch von Zeit zu Zeit und die Stimmung war super, also gibt es auch hier nichts zu bemängeln. POWERWOLF haben eine gewohnt großartige Show gespielt. Zu Recht füllen sie mittlerweile auch die großen Hallen. Dazu kommt, dass POWERWOLF immer großartige Opener auf Tour haben, so dass sich die Konzerte mehrfach lohnen. SERENITY und LORD OF THE LOST haben beim Publikum ordentlich Stimmung gemacht und Tourstarts sind immer etwas Aufregendes. Für den Besucher war es rundum ein perfekter Abend. Wer die Chance hat, sollte sich ein POWERWOLF-Konzert nicht entgehen lassen.
Alle Bilder gibt es natürlich auf Flickr.
Text und Fotos von Yvonne Otte
______________________________________________________________________
When POWERWOLF call for a 'Metal Mass,' their loyal fans appear in large numbers, always and everywhere. This was also the case for the start of the 'Wolfsherbst- Tour' in Düsseldorf. Around 4 PM, an estimated 200 people were already gathered outside the venue. POWERWOLF concerts are highlights, and fans want to be at the front. It's no wonder that fans were waiting for the doors to open so early.
Around 7 PM, the first band, SERENITY, a friendly band from Austria, were scheduled to kick off the concert evening. Normally, openers have a tough time because most people come for the headliner. For many, the opener is an annoying necessity that prolongs the evening unnecessarily. However, that wasn't the case in Düsseldorf that night. From the first second, SERENITY had captivated the almost sold-out Mitsubishi Electric Halle. This band simply know how to create an atmosphere and put on a great show. In addition to old songs, they also played new ones from their album 'Nemesis AD,' which is set to be released on November 3, 2023. The band joked that as many people as possible should buy the album so that they could outrank HELENE FISCHER in the charts. Unfortunately, the time passed by too quickly. In 2024, you can catch SERENITY on their own tour with even more songs.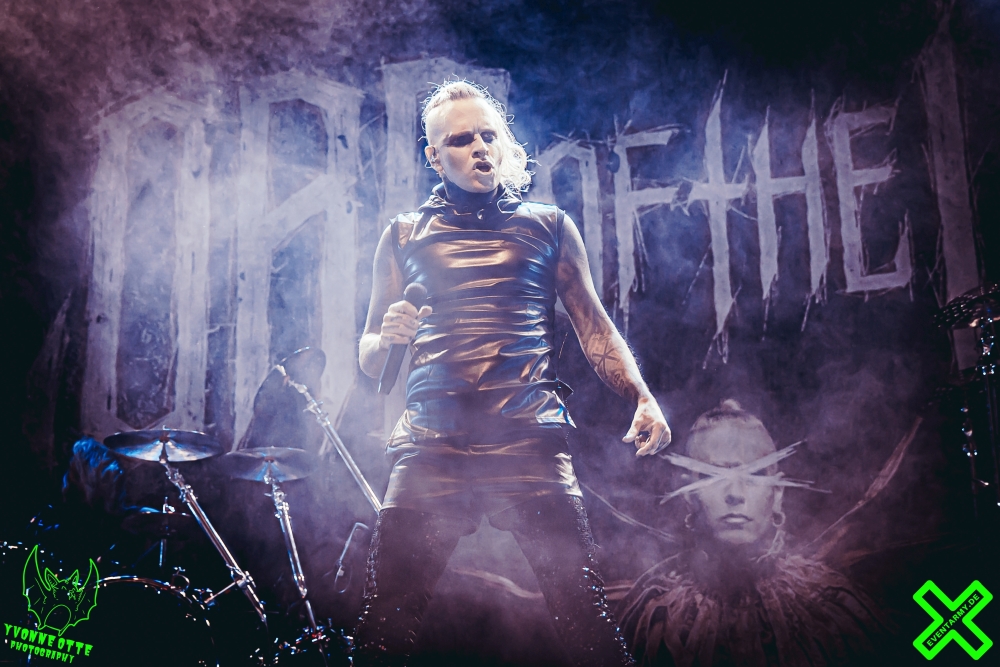 Around 8 PM, LORD OF THE LOST took the stage. Since their appearance at the Eurovision Song Contest in Liverpool, everyone probably knows the band from Hamburg. They are a band that is almost unbeatable live, and wherever they perform, they deliver a show that leaves people speechless. This was also the case in Düsseldorf, of course. If you didn't know that POWERWOLF was still going to perform, you might have thought that LORD OF THE LOST was the headliner of the evening. Certainly, many LORD OF THE LOST fans were present, but that alone couldn't explain it, as the front rows of the venue are usually reserved for the headliner's fans. LORD OF THE LOST captivates you, and you can't help but join in. The atmosphere was fantastic. A LORD OF THE LOST concert is something you have to see; you have to be there because trying to put it into words is futile. Despite that, the show passed by too quickly. A small personal critique here is that one might have expected something special in their makeup for Halloween. However, this doesn't detract from the fantastic show the Hamburg band put on.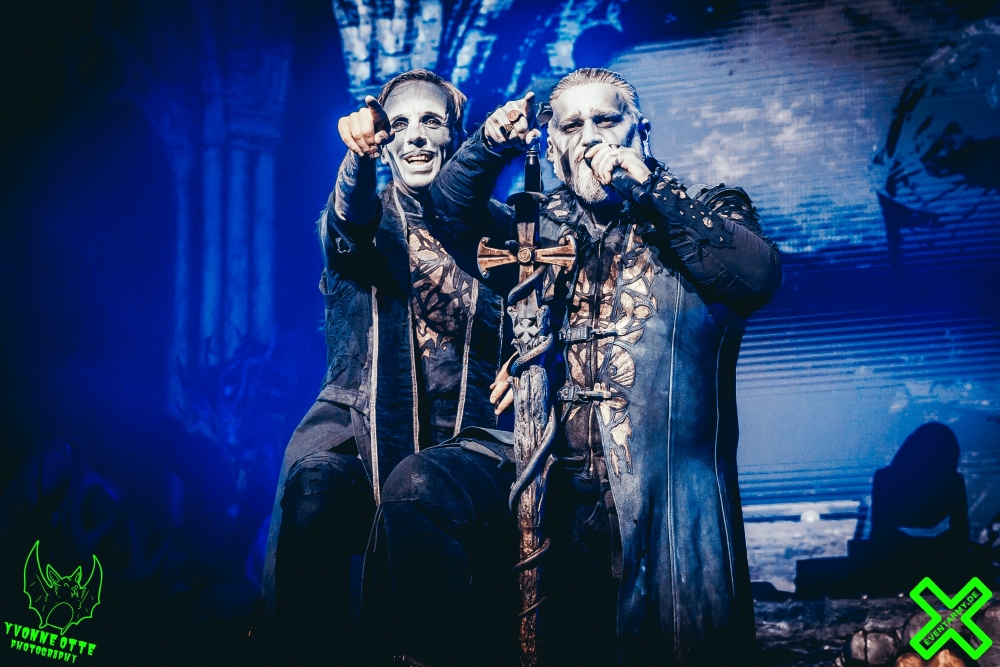 Halloween or not, POWERWOLF fans always turn up in great numbers with painted faces. This time, however, some guests had come in costumes, not just painted faces. The POWERWOLF show was scheduled to start around a quarter past nine. The long wait, sweetened for everyone by two fantastic concerts, finally came to an end. From the beginning, there was no holding back for the fans. The two previous shows had an incredible atmosphere, but when POWERWOLF took the stage, it went up another notch. The loyal fans never disappoint. It was high energy from the first minute, both from the fans and the band. That's what makes concerts fun! POWERWOLF don't just make fantastic music; their concerts are always a highlight as well. In Düsseldorf, it was the first show of the 'Wolfsherbs- tour". So, no one knew what to expect, which songs would be played, or how many. They ended up playing 18 songs, including the live debuts of 'Wolves Of War' and 'Alive or Undead.' The songs were accompanied by plenty of fire, confetti, and glitter rain. Not only did the ears get perfect sound, but there was also a visual spectacle. Since POWERWOLF fans are usually repeat attendees, this may not have been new to most. Nevertheless, the venue erupted when the confetti cannons went off. It looks particularly impressive when the stage is visually on fire. You may have seen it many times, but fire is always something special. The gigantic LED wall in the background of the stage also made an impression. In the past, bands used to have large banners on tour, but now there are LED walls for that. At POWERWOLF, they created 3D effects, adding that extra special touch to the show. The performance lasted for a little over two hours, which is standard for POWERWOLF. With the two opening bands, the audience truly got their money's worth.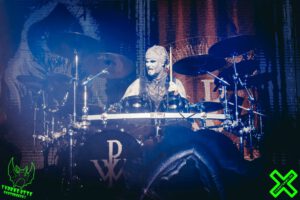 Overall, there's nothing to criticize. The sound was excellent for all the bands, making it a true pleasure to listen. Visually, in the past, LORD OF THE LOST had put on better shows, but bands also change their style from time to time, and the atmosphere was great, so there's nothing to complain about here either. POWERWOLF put on their usual fantastic show. They rightfully fill the big venues now. Additionally, POWERWOLF always bring great openers on tour, making the concerts worth attending multiple times. SERENITY and LORD OF THE LOST truly got the audience in the mood, and tour starts are always exciting. For the audience, it was a perfect evening all around. If you have the chance, don't miss a POWERWOLF concert.
You can find all the pictures on Flickr.
Text and photos by Yvonne Otte.