English below
Das RUHRPOTT METAL MEETING ist das Sahneschnittchen unter den Indoor-Festivals. Nicht nur, weil es über 2 großartige Hallen in Oberhausen verfügt, sondern auch, weil die Anbindung an Autobahn und Öffis einfach traumhaft ist. Außerdem verfügt das Gelände über einen großen Parkplatz und Hotels sind in der Umgebung reichlich vorhanden.
Wenn das nicht schon Grund genug wäre dem RUHRPOTT METAL MEETING einen Besuch abzustatten, überzeugte natürlich auch in diesem Jahr das Line-Up in den Turbinenhallen wieder alle.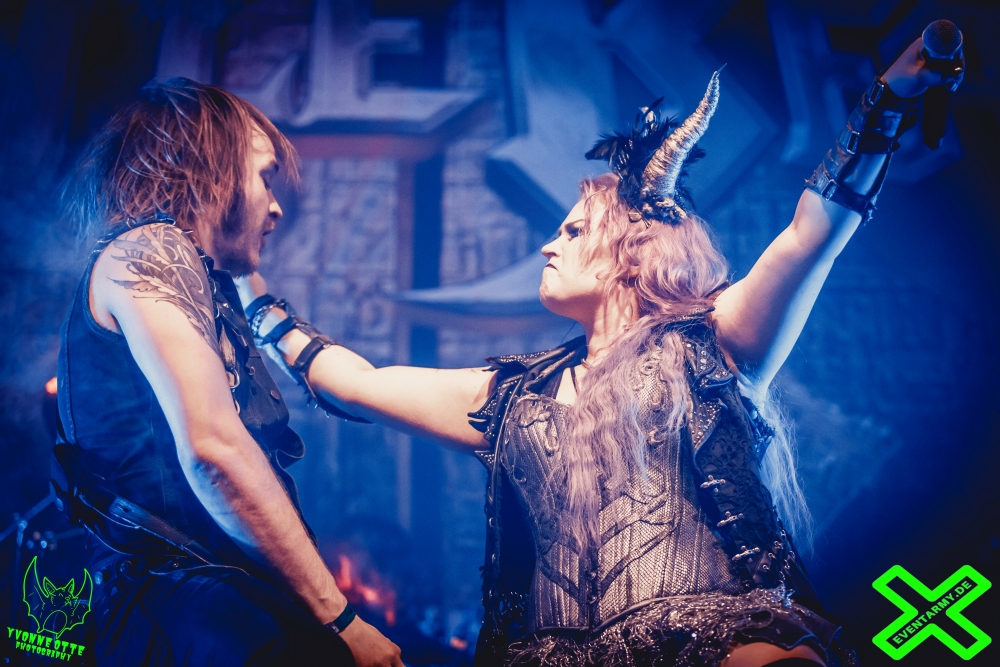 Das RUHRPOTT METAL MEETING gibt es erst seit 2015, hat sich aber mittlerweile einen Namen auch außerhalb des Ruhrgebietes gemacht. Jedes Jahr am ersten Dezemberwochenende wird mit einem namenhaften Line-Up die Festivalsaison quasi in die Winterpause mit viel Musik aus dem Metal-Bereich verabschiedet. Die 2 Hallen verfügen beide zusammen über eine Kapazität von gut 4.800 Plätzen (Turbinenhalle 1 = ca. 3.000, Turbinenhalle 2 = ca. 1.800). Das macht es damit zwar überschaubar, aber sicherlich auch für diejenigen interessant, die die Massen an Menschen auf den großen Festivals im Sommer eher meiden.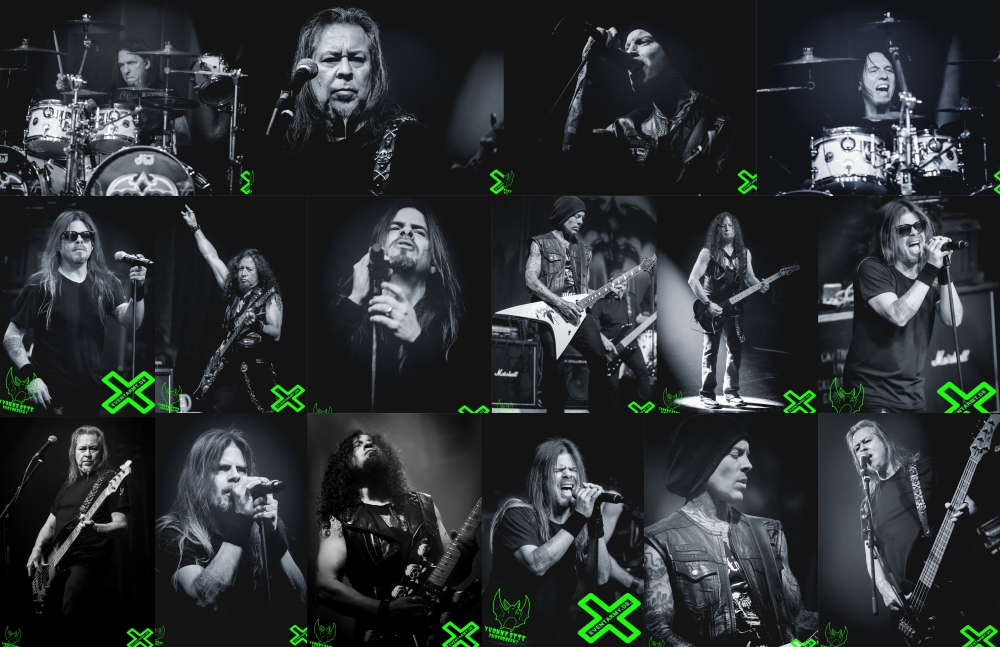 Für das diesjährige Festival hatten sich KATAKLYSM und QUEENSRYCHE als Headliner angekündigt.
Aber auch das weitere Line-Up musste sich nicht verstecken. Der Freitag war Teil der HEADBANGER BALL TOUR, die auf die Ende der 80-ziger und in den frühen 90-zigern auf M-TV ausgestrahlten Kultserie aufbaut. Die Bands ließen es, wie zu erwarten war, ordentlich krachen. Großartiger Start für das RUHRPOTT METAL MEETING und ins Wochenende.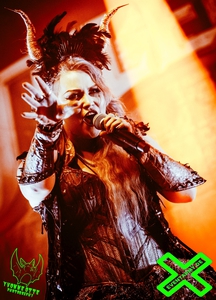 Samstag gab es dann 2 Bühnen und entsprechend mehr Bands. Neben den 2 Bühnen gab es aber auch noch Autogrammstunden, Merchandise, Essen und Trinken und noch vieles mehr. Wenn man nicht in der Halle war, um die Bands zu genießen, gab es im Foyer eine Menge anderer Dinge um die Zeit unterhaltsam zu gestalten. Besonders toll waren natürlich die Autogrammstunden. Diese bietet nicht jedes Festival an und nach Konzerten hat man nicht immer die Möglichkeit die Bands zu treffen. Das RUHRPOTT METAL MEETING macht es aber jedes Jahr möglich, dass man dort die auftretenden Bands treffen kann.
Die Ruhrpott Stage war in der größeren der beiden Halle und so gesehen die "Hauptbühne". Den Start durften am Samstag DEBAUCHERY machen. Auch wenn es noch relativ früh am Tag war, war das Konzert sehr gut besucht. Viele Musikfans kamen auch noch während der Show rein, wenn sie vorher in der anderen Halle waren. Das war übrigens bei allen Bands so. Death Metal ist sicherlich nicht jedermanns Geschmack, aber die Menge war gut drauf und hat die Band gebührend abgefeiert.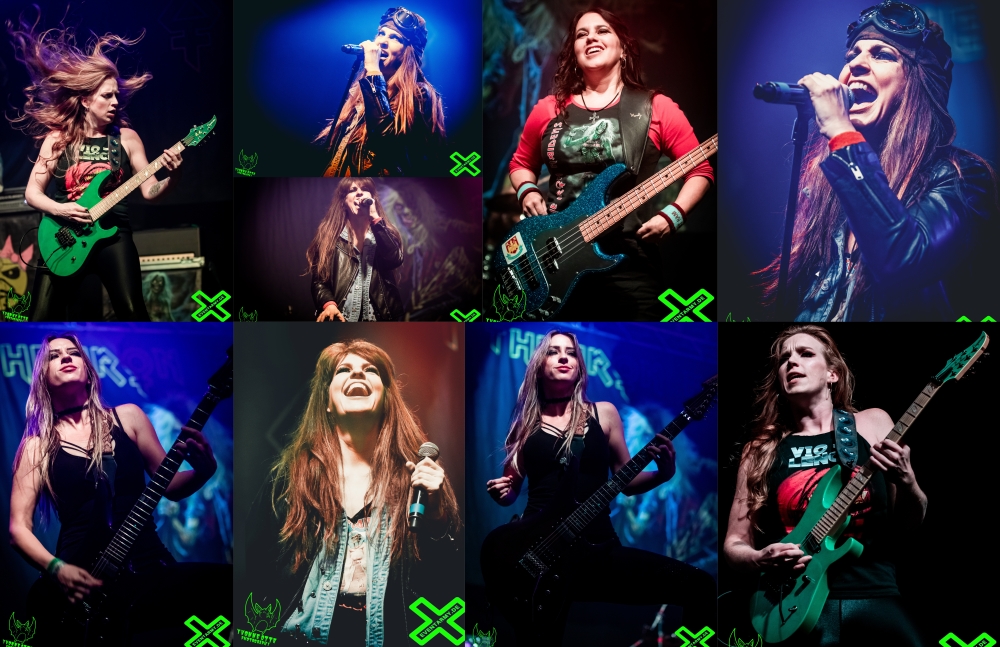 Danach ging es weiter mit ein bisschen IRON MAIDEN Musik von den THE IRON MAIDENS, eine ausschließlich weibliche IRON MAIDEN Tribute-Band aus den USA. Die Lieder gehen einfach immer und ob vom Original oder von THE IRON MAIDENS spielt keine Rolle, sie werden einfach immer abgefeiert. So auch in Oberhausen. Und auch sonst auf der ganzen Welt. Neben Oberhausen spielten die Mädels bereits in Japan, Peru, Brasilien und Kuwait.
Die Halle war rappelvoll und es herrschte eine großartige Stimmung. Den THE IRON MAIDENS konnte man auch den Spaß auf der Bühne ansehen, der sich sofort auf die Menge übertragen hat. Mit 50 Minuten Spielzeit natürlich zu kurz. Aber so ist das auf Festivals leider immer: Die Zeit ist knapp bemessen, es spielen viele Bands an einem Tag und da ist es nicht möglich allen eine sehr langes Set zu ermöglichen.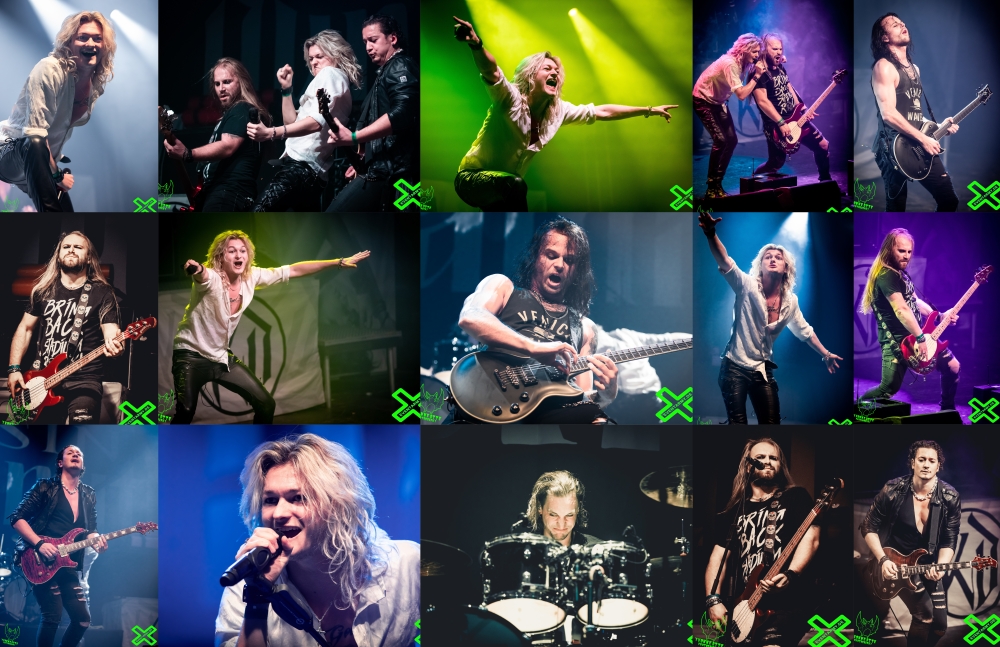 Auch wenn bei den THE IRON MAIDENS die Stimmung schon super war, sobald Glam-Rock oder Glam-Metal gespielt wird, tobt die Halle. Man mag die Jungs von KISSIN' DYNAMITE aus diversen Gründen belächeln und vielleicht nicht ganz ernst nehmen, aber eine perfekte Liveshow mit viel Energie, Hingabe und Spaß legen sie trotzdem jedes Mal hin und davon können sich so manche Bands noch eine Scheibe abschneiden. Nicht nur, dass die Chemie zwischen den Musikern auf der Bühne stimmt und man ihnen den Spaß einfach auch ansieht, KISSIN' DYNAMITE tischt auch noch mit einer ordentlichen Pyro-Show auf. Eine Show, die in die großen Hallen gehört, wie sie auf der POWERWOLF-Tour beweisen konnten. Allerdings nicht nur da, sondern auch auf der Ruhrpott Stage. Mit einer 60-minütigen Show konnten lange nicht alle Songs gespielt werden, die sie sonst spielen, aber in den 60 Minuten haben sie alles gegeben und haben sicherlich bei vielen einen bleibenden, positiven Eindruck hinterlassen.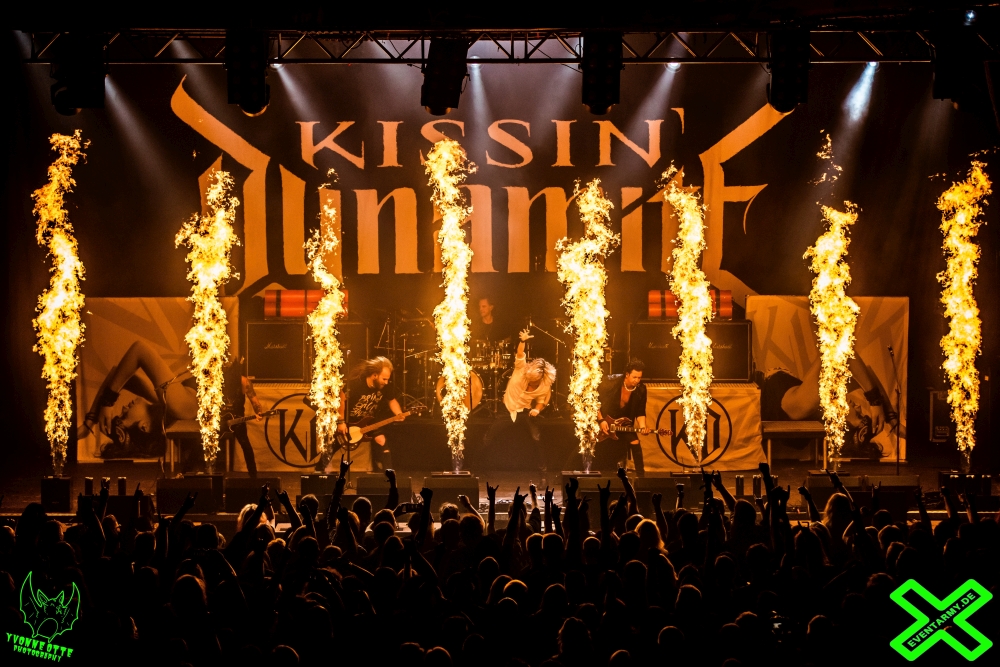 Schwer zu sagen, ob BATTLE BEAST die Stimmung von der KISSIN' DYNAMITE-Show noch toppen konnten. Fest steht jedenfalls, dass BATTLE BEAST, wie immer, eine perfekte und großartige Show abgeliefert haben. Auf BATTLE BEAST ist einfach Verlass: die Band ist die Garantie für eine Show, die einen mitreißt, die jede Menge Spaß bereitet und von der man einfach nicht genug bekommen kann. Die Halle hat gebebt und die Show war voller Power und ging viel zu schnell vorbei. War man einmal bei einer BATTLE BEAST-Show, kann man nicht genug bekommen und ist süchtig nach dieser mitreißenden Live-Performance. BATTLE BEAST durften 75 Minuten spielen, was immerhin schon fast an eine normale Show herankommt.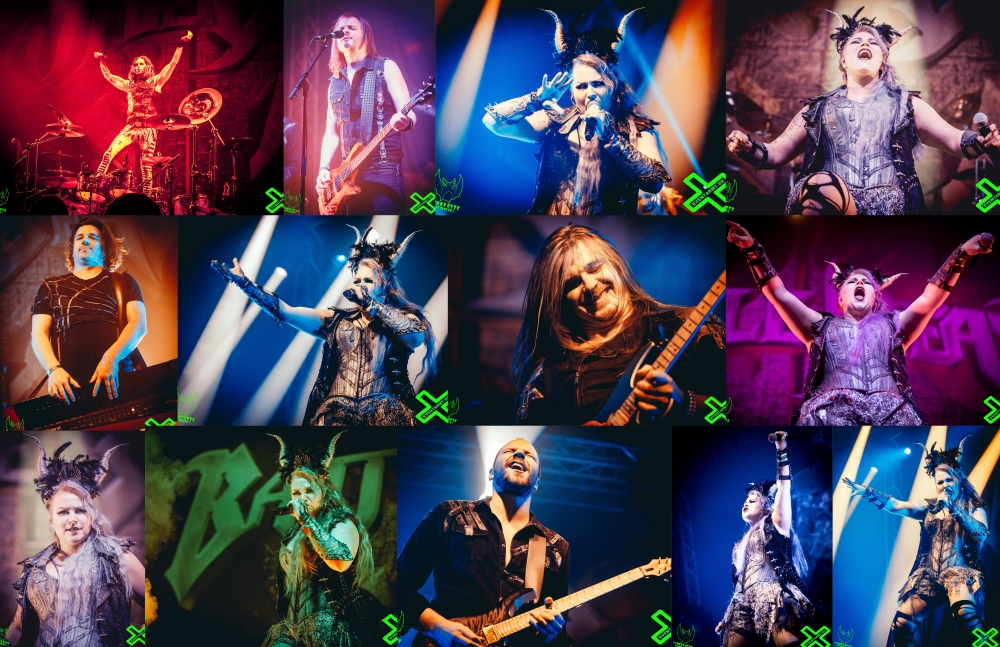 Es wurde spät und das Festival neigte sich dem Ende zu. Trotz der vorangeschrittenen Uhrzeit waren alle Festivalbesucher noch fit für den Headliner des Abends: QUEENSRYCHE. Sicherlich musikalisch nach KISSIN' DYNAMITE und BATTLE BEAST ein Schnitt. Dennoch machten die Besucher keinen Unterschied und feierten auch mit QUEENSRYCHE bis zur letzten Minute. Mit 90 Minuten die längste Show des Tages. Und bis dahin mussten die Fans lange warten, denn QUEENSRYCHE gingen erst um 23 Uhr auf die Bühne. Trotz über 30 Jahren als Band immer noch ein Geheimtipp, auch wenn besonders das aktuelle Album "The Verdict" in Deutschland hoch in den Charts war. Völlig unterbewertet, denn diese Band weiß was sie tut und ist extrem gut darin. Die Stimmung war, wie auch bei den vorangegangenen Bands, unbeschreiblich. Besonders auffällig war, dass Sänger Todd La Torre immer wieder zu allen Seiten gegangen ist und so für alle Seiten sichtbar war. Häufig bleiben Sänger in der Mitte und wer dann am Rand steht hat eben Pech. Diese Geste war extrem sympathisch und kam gut an.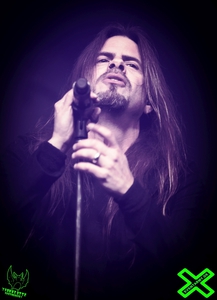 QUEENSRYCHE zu Recht Headliner? Schwer zu sagen, denn alle Bands haben die Halle zum beben gebracht und bei jeder Show war eine super Stimmung, wie man sie oft von den Headlinern kennt. Man hätte auch BATTLE BEAST, KISSIN' DYNAMITE, THE IRON MAIDENS und QUEENSRYCHE würfeln lassen können und der Gewinner wäre der Abschluss des Festivals. An der Stimmung in der Halle hätte es nichts geändert, was für ein gut ausgewähltes Line-Up mit hervorragenden Bands spricht.
Obwohl es ein langer Tag war, verging er wie im Flug. Selbst die Umbauphasen waren kaum merkbar, da man immer wieder die Halle verlassen konnte und dort genügend Ablenkung zu finden war. Das Line-Up war so gut gewählt, dass man von der Stimmung her kaum Unterschiede feststellen konnte. Alles Bands haben großartige Shows gespielt, mit viel Energie und Freude. Ein tolles, kleines Festival im Ruhrgebiet, was sich immer wieder mit dem Line-Up übertrifft und jedes Jahr einen Besuch wert ist.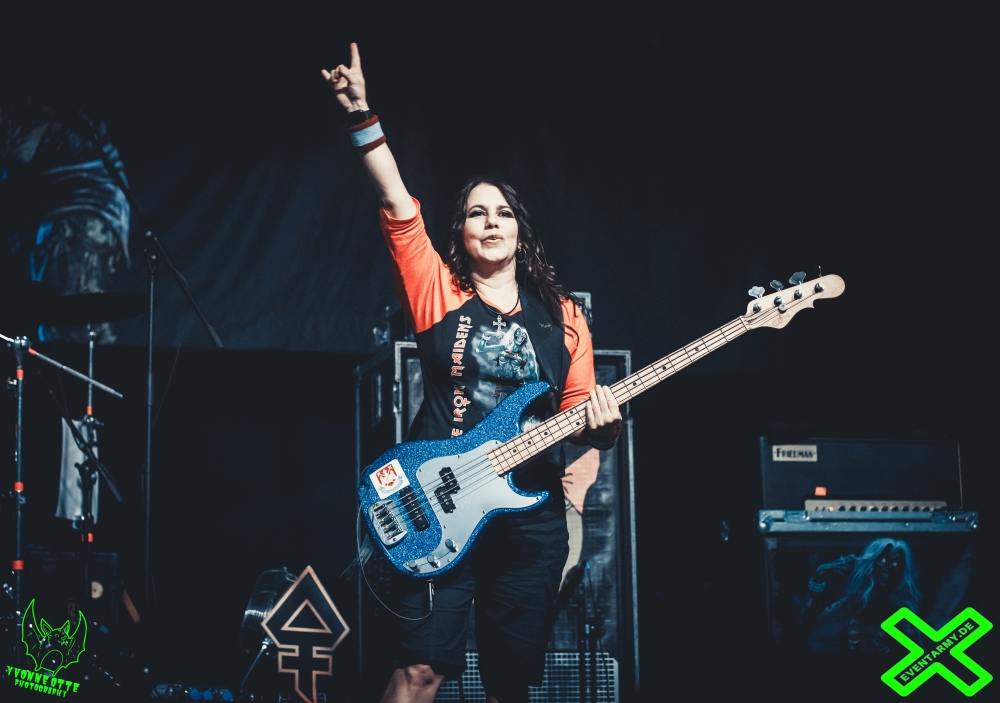 Alle Fotos vom RUHRPOTT METAL MEETING (Samstag, 07.12.2019) gibt es auf Flickr.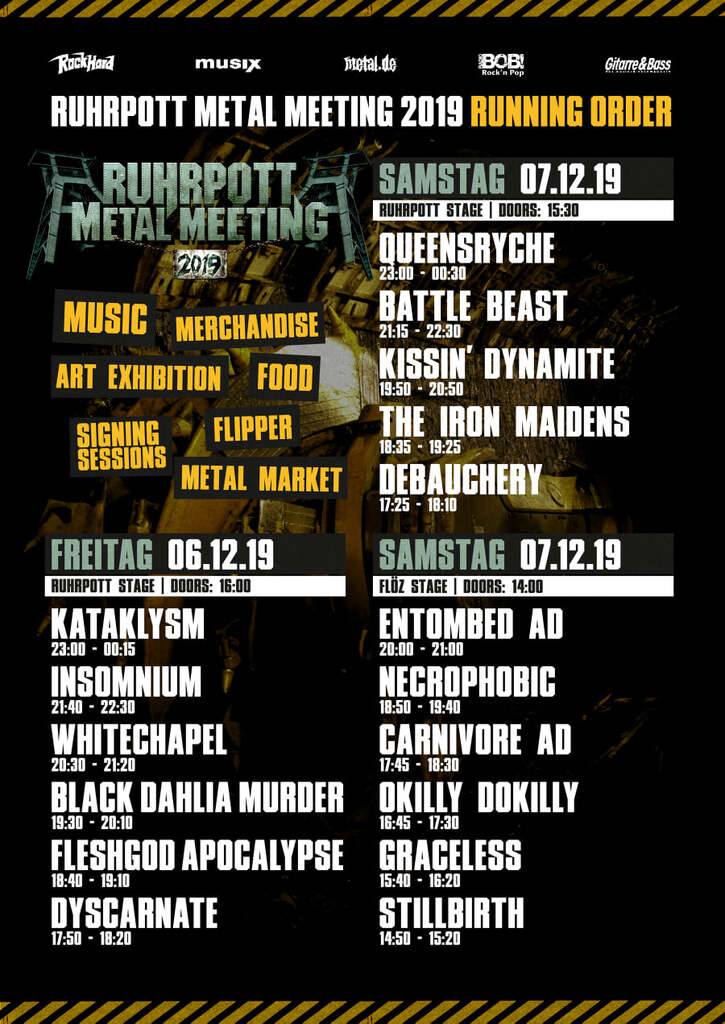 The RUHRPOTT METAL MEETING is the gem among indoor festivals. Not only because it has 2 great halls in Oberhausen, but also because the connection to the motorway and public transport is simply fantastic. In addition, the site has a large parking lot and there are plenty of hotels in the area.
If that isn't enough of a reason to visit the RUHRPOTT METAL MEETING, the line-up in the Turbinenhalle was of course convincing again this year.
The RUHRPOTT METAL MEETING has only been in existence since 2015, but has also made a name for itself outside the Ruhr area. Every year, during the first weekend of December, the festival season says goodbye with a well-known line-up into the winter break with a lot of music from the metal sector. The 2 halls together have a capacity of 4.800 seats (Turbinenhalle 1 = approx. 3.000, Turbinenhalle 2 = approx. 1.800). This makes it manageable, but also interesting for those who prefer to avoid the massive amounts of people at the big festivals in summer.
For this year's festival KATAKLYSM and QUEENSRYCHE had announced themselves as headliners.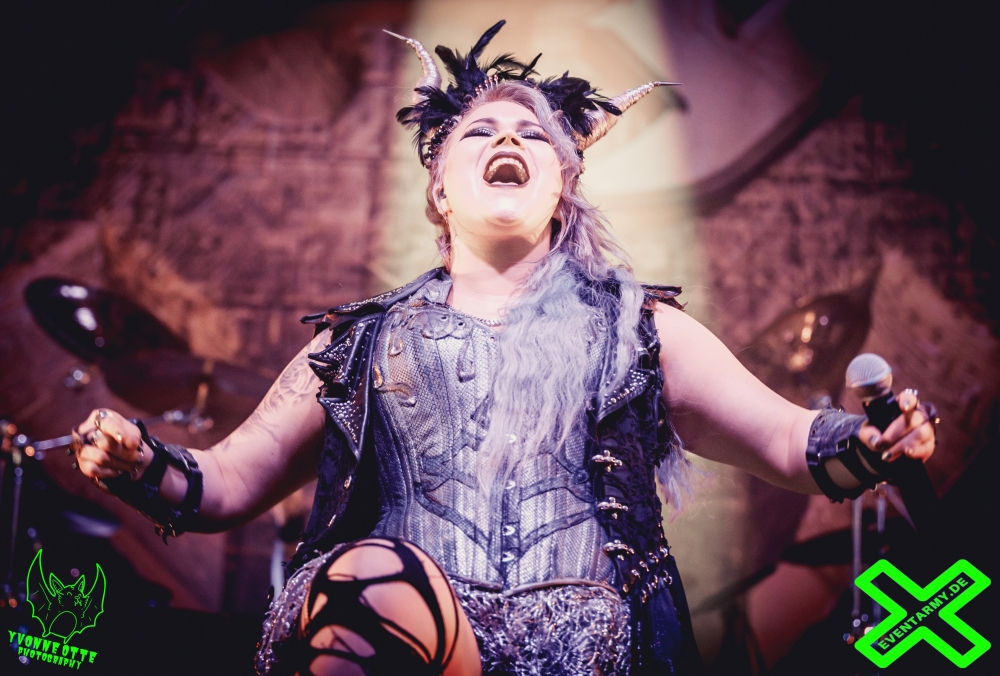 But also the rest of line-up didn't have to hide. Friday was part of the HEADBANGER BALL TOUR, which builds on the M-TV cult series broadcast from the late 80s and early 90s. The bands let it crash, as was to be expected. Great start for the RUHRPOTT METAL MEETING and into the weekend.
Saturday there were 2 stages and correspondingly more bands. Besides the 2 stages there were also signing sessions, merchandise, food and drinks and much more. If you weren't in the hall to enjoy the bands, there were a lot of other things to enjoy in the foyer. Of course, the signing sessions were especially great. Not every festival offers them and after concerts you don't always have the chance to meet the bands. But the RUHRPOTT METAL MEETING makes it possible to meet the performing bands every year.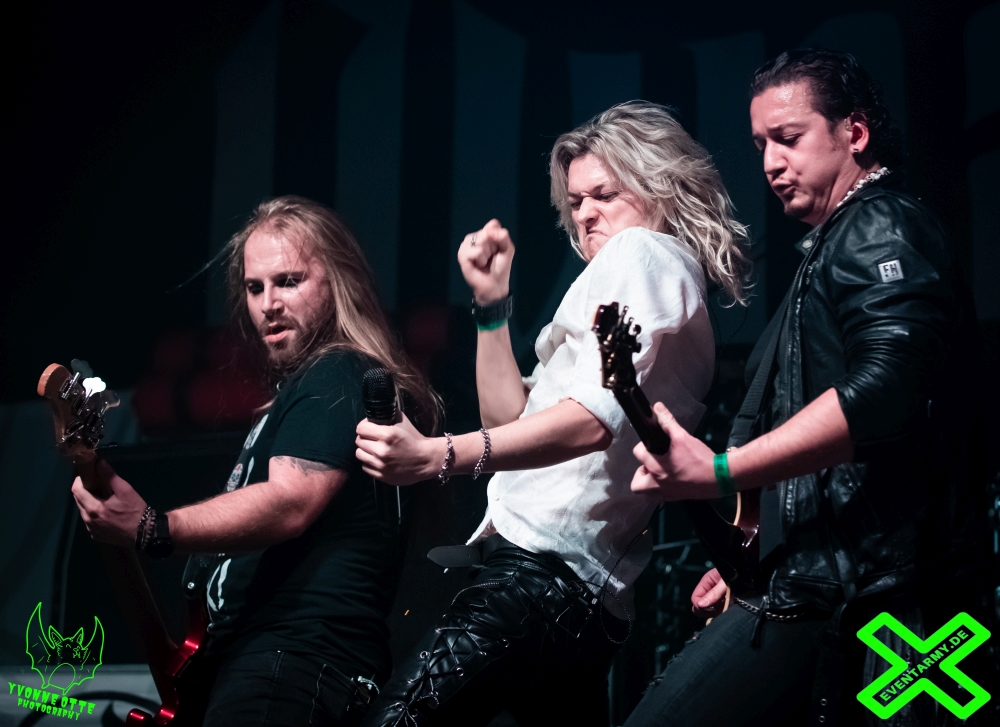 The Ruhrpott Stage was in the larger one of the two halls and thus seen as the "Main Stage". DEBAUCHERY opened on Saturday at this stage. Even if it was still relatively early in the day, the concert was very well attended. Many music fans also came in during the show, if they had been in the other hall before. Death Metal is certainly not everyone's taste, but the crowd was in a good mood and celebrated the band properly.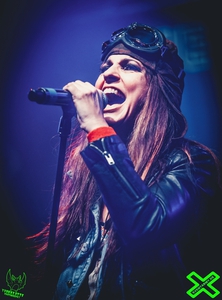 Then it went on with some IRON MAIDEN music from THE IRON MAIDENS, an exclusively female IRON MAIDEN tribute band from the USA. The songs are simply non stop, whether they're from the original or from THE IRON MAIDENS, doesn't matter, they are simply always celebrated. In Oberhausen, as well as all over the world. Other than Oberhausen, the girls had already played in Japan, Peru, Brazil, and Kuwait.
The hall was packed and there was a great atmosphere. During THE IRON MAIDENS you could also watch the fun on stage, which immediately spread to the crowd. 50 minutes of playing time was of course too short. But this unfortunately, is always the case at festivals: the playing time is tight, there are so many bands playing all in one day and it is not possible to give everyone a very long playing time.
Even if the mood at THE IRON MAIDENS was great, as soon as Glam-Rock or Glam-Metal is played, the hall is raging. You might smile at the guys from KISSIN' DYNAMITE for various reasons and might not take them seriously, but a perfect live show with a lot of energy, devotion, and fun they still put down every time and some bands can take an example of this. Not only that, but the chemistry between the musicians on stage is right and the fun is obvious. KISSIN' DYNAMITE also serves up a good pyro show, a show that belongs in the big halls, as they had proven on the POWERWOLF tour. Not only there, but also at the Ruhrpott Stage. With a 60-minute show they couldn't play all the songs they normally play, but in those 60 minutes they gave it their everything and certainly left a lasting and positive impression on many.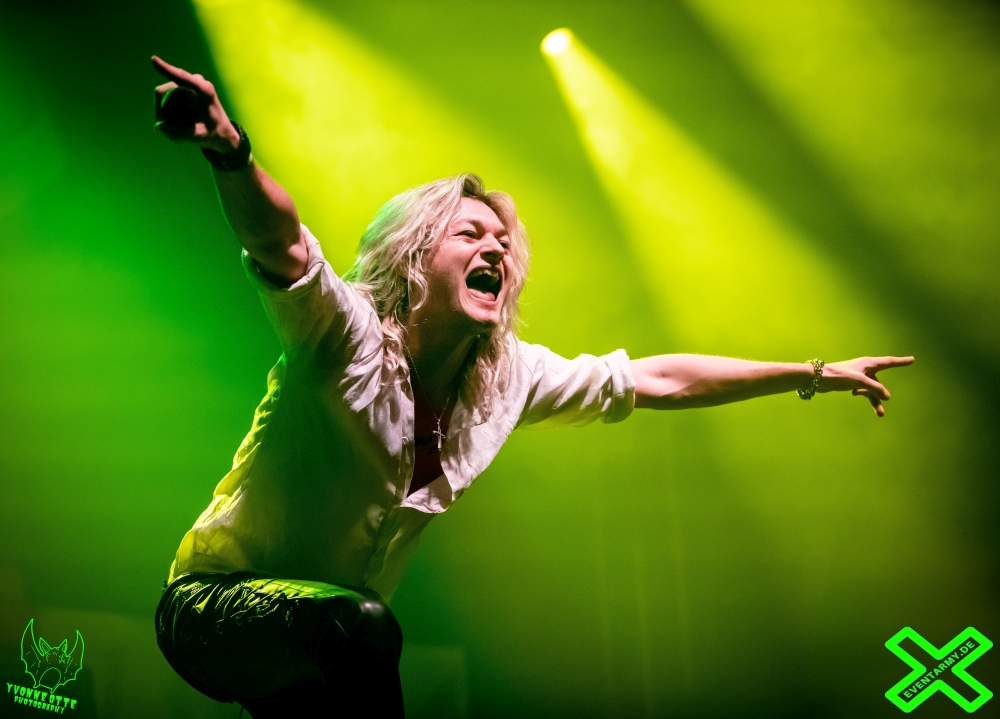 It's hard to say whether BATTLE BEAST could still top the mood of the KISSIN' DYNAMITE show. What's certain is that BATTLE BEAST, as always, delivered a perfect and great show. You can rely on the facts that with BATTLE BEAST, you areguaranteed for a show that will carry you away, one that's a lot of fun and that you just can't get enough of. The hall was shaking and the show was full of power and it went by way too fast. Once you've been to a BATTLE BEAST show, you can't get enough and you're addicted to this thrilling live performance. BATTLE BEAST were allowed to play for 75 minutes, which is almost the length of a normal show.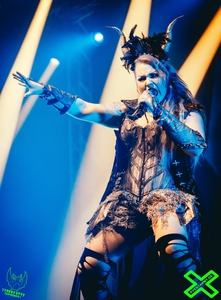 It was getting late and the festival was drawing to a close. Despite the advance of time, all festival goers were still fit for the evening's headliner: QUEENSRYCHE. Certainly, a musical cut after KISSIN' DYNAMITE and BATTLE BEAST. Nevertheless, the audience made no difference and celebrated with QUEENSRYCHE until the last minute. With 90 minutes, they had longest show of the day. The fans had to wait a long time, because QUEENSRYCHE didn't go on stage until 11 pm. Despite spending more than 30 years as a band on the road, they are still a secret tip, even if the current album "The Verdict" was especially high in the charts in Germany. They are completely underrated, because this band knows what they are doing and is extremely good at it. The mood was indescribable, just like with the previous bands. It was especially noticeable that singer Todd La Torre went to all sides again and again and so was visible for all sides. Often singers stay in the middle and those who stand at the edge have bad luck. This gesture was extremely sympathetic and was well received. Was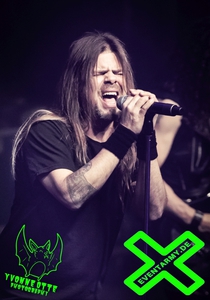 QUEENSRYCHE a rightly headliner? Hard to say, because every band made the hall shake and every show had a great atmosphere, as you often know it from the headliners. You could have had BATTLE BEAST, KISSIN' DYNAMITE, THE IRON MAIDENS and QUEENSRYCHE rolled and the winner would have been at the end of the festival. The atmosphere in the hall wouldn't have changed, which speaks well for a well-chosen line-up with excellent bands.
Despite the fact that it was a long day, it flew by. Even the rebuilding phases were hardly noticeable, because you could leave the hall again and again and there was enough distraction to be found. The line-up was so well chosen that no one could hardly notice any differences in the mood. All bands played great shows, with a lot of energy and joy. A great little festival in the Ruhr area, which always surpasses the line-up and is worth a visit every year.
You can find all photos on Flickr.